Did you know that every day, over 10,000 people in the Centralina region turn 60? As the percentage of older adults amongst the United States population grows each year, so does the increased need for ample support for those individuals in our communities. To honor the hard work of individuals and organizations devoted to aging-related issues and services, Centralina recognizes those who have demonstrated commitment and made valuable contributions through our annual Region of Excellence Aging in Action Award. The awardee has experience tackling topical issues, engaging with and/or volunteering with older or disabled adults and advocating for and on behalf of them and their families. This year's award was given to Anna Rice for her outstanding 45+ years of service as Executive Director for the Iredell Council of Aging.
When Anna started her role with the Council in 1977, it was just a small non-profit. Through her steadfast leadership and commitment to her community, the Council has grown into a state-wide recognized program that includes two North Carolina Senior Centers of Excellence and has extensive regional influence on issues regarding transportation for older adults and age-friendly planning. Despite consistent setbacks involving limited budgets and small staff, she persevered to help provide quality programming and services for over 1,000 older adults and their caregivers in Iredell County. Even as the pandemic surged on, she worked to modify existing service programs to allow safe and easy access to essential services, such as drive-through grab-and-go meal services and mobile COVID vaccine outreach and events. Her tenure and impact on her community were recently honored by the Iredell County Board of Commissioners and as a recent winner of the Order of the Long Leaf Pine, a prestigious award for 30 or more years of state service, presented by the North Carolina Governor to a recently retired state employee.
We took time to talk with Anna about her exemplary career and ask her how other women aspiring to careers working with older adults can grow and succeed as she has.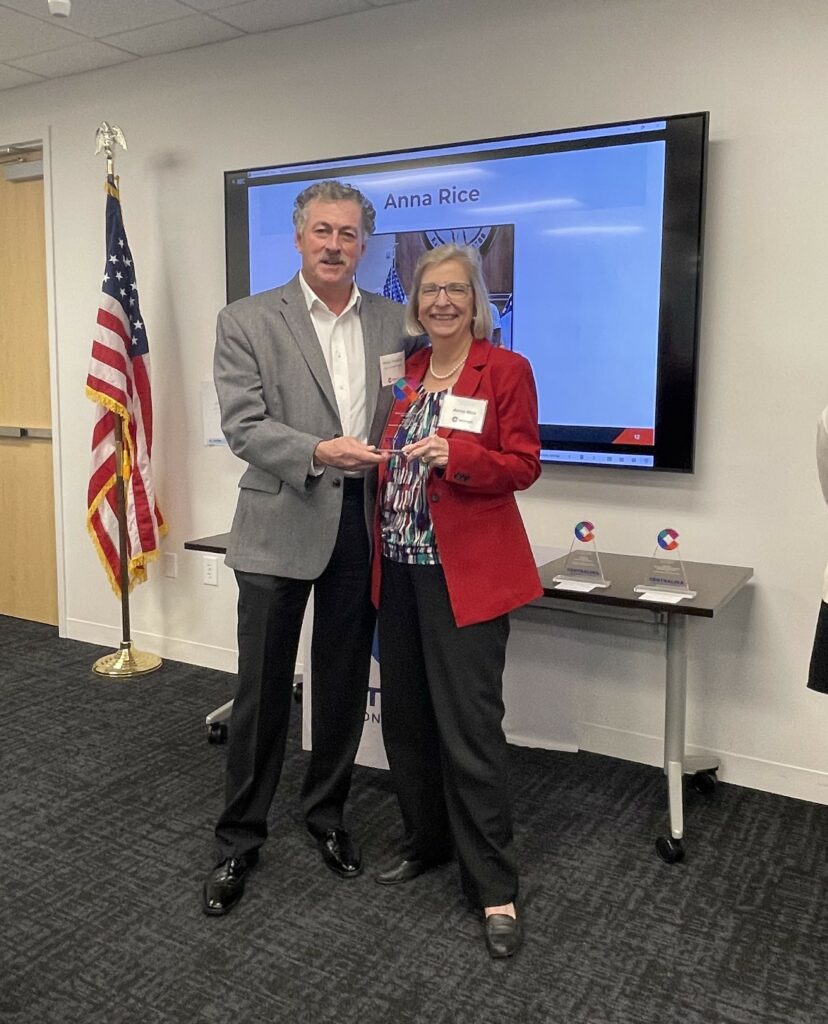 Tell us more about what inspired your career working with older adults.
In high school, as a Junior Civinette, I volunteered weekly to go to the local nursing home at dinner to help feed frail seniors who couldn't manage a fork or spoon. There I saw firsthand the number of older adults who were alone…really alone. During my senior year at Salem College, I took a senior seminar entitled "The Pursuit of Happiness." For no particular reason – except for my earlier experiences at the nursing home – I decided to explore "happiness" in regards to older adults and the aging population. For an entire semester, I explored barriers, challenges, triumphs, small victories – all aspects of what it meant to pursue happiness through the lens of the aging population. It was then I decided to devote my career to aging. Once graduated, I joined Mecklenburg Council on Aging (COA) in the role of outreach worker for older adults in Mecklenburg County. As that was a short-term assignment, I then joined Iredell Council on Aging in the same capacity. Thus began my long career with the COA.
You worked with Iredell Council on Aging for more than 45 years. What accomplishments from your time in your position are you most proud of and why?
As far as I'm aware, Iredell County was the first county in NC to establish a completely volunteer nursing home "committee" to advocate for residents in long-term care. In any case, the COA's efforts were an early precursor to the current long-term care committees throughout NC and certainly helped shape the Ombudsman program.
Secondly, with the pandemic in the not-too-distant past, I am equally as proud of the work the COA team did in continuing services throughout COVID. While the look and feel of services may have changed a bit, the agency was able to provide vital services – meals, transportation, in home services, senior center opportunities/activities – at a time when seniors were especially vulnerable and COVID was shaping all our lives in trying and challenging ways. Although a coworker of mine died of COVID in the early days of the pandemic, the agency was never closed or shut down during the entirety of the pandemic. Of particular note, the new executive director, in her previous role as Director of Senior Centers, reached out to the health department and was able to successfully bring COVID vaccinations by appointment to the COA's two senior centers. This was in response to seniors sharing they were getting in line at various health department vaccination clinics in the county in the early, early hours of the morning, often before dawn, and sometimes still failed to get vaccinated before supplies ran out.
What is the most pressing challenge and/or opportunity facing older adults? What needs to be done to combat these issues?
I have frequently described my role as one who speaks for the invisible older adults in our community; those isolated – physically and socially isolated – seniors who live alone, who have no family or family that cares, who live behind the four walls of their modest home. Somehow, we must elevate the needs of older adults and create awareness.
This is the one group we will all eventually be a part of if we live long enough. As a country, we are woefully behind in acknowledging the "silver tsunami" and addressing the diverse needs of an overwhelmingly aging population. How can we create opportunities for older adults to successfully age in place with the appropriate supports, more available in-home care, more home delivered meal options, easily accessed transportation options, affordable housing, senior center opportunities, etc.? While increased funding will help with these shortfalls, we must create a new mindset that values "aging" and older adults. And we tend, as a society, to take care of the things and people we value.
What advice would you give to people interested in a career working with older adults?
Evaluate all your options in the aging field. There are many different career opportunities from direct services to public policy to research. It's wide open. Eldercare attorneys, case managers, aging program managers, gerontologists, social workers, etc. Find your niche and pursue your passion in aging.
What do you think makes women good leaders? What challenges do women working with older adult's face?
Women are good problem solvers who tend to think outside of the box; strong, but empathetic. I haven't experienced any challenges in working with older adults that I perceived my gender to be a barrier/hinderance.
Tell us something about yourself that people may not know!
I play the piano and I create stained glass pieces.
What is your favorite inspirational quote?
"The best and most beautiful things in the world cannot be seen or even touched. They must be felt with the heart." – Helen Keller