The Town of Ranlo, located in Gaston County, had never had a Town Manager before Jonathan Blanton was hired in 2020. With a worldwide pandemic in full effect, along with crippling financial trouble within the Town, Blanton had his work cut out for him from day one. In just three years on the job, Blanton worked to sheer back spending and issued a tax increase to help balance the Town budget and cease the consistent need for the Town to dip into savings. For his outstanding leadership that led to transformative changes for his community, Blanton was honored as this year's small community winner for the Region of Excellence James D. Prosser Award for Excellence in Government Leadership.
We sat down with Jonathan to learn more about his passion for local government, his work in Ranlo and how he's planning to use his role to bring future positive changes in the community.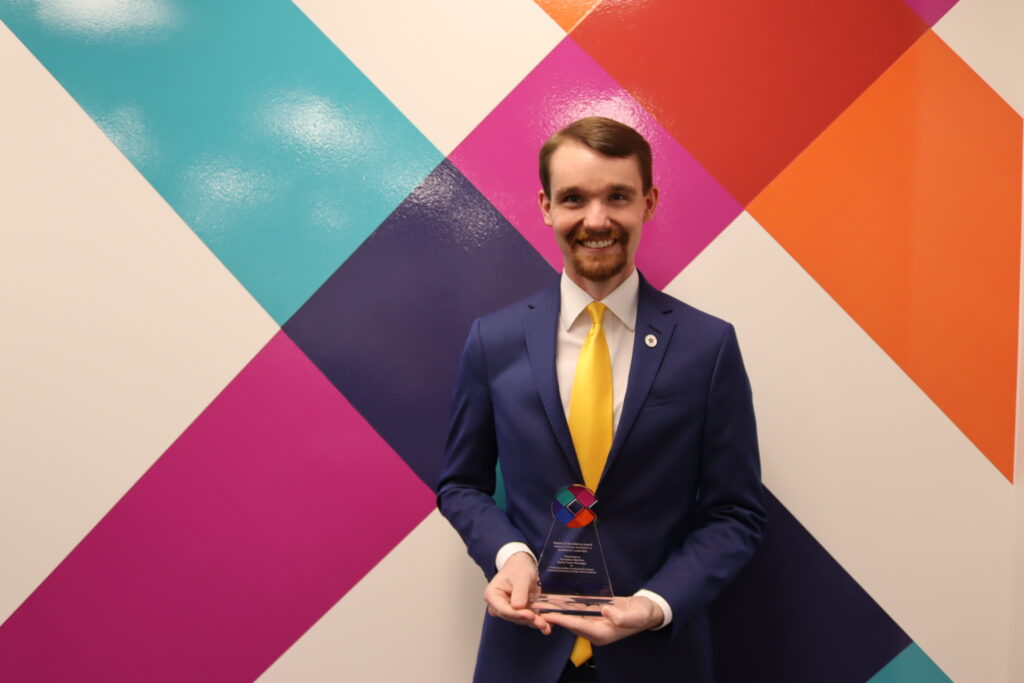 What drew you to local government?
At the age of seventeen, I became interested in local government and sought elected office to raise awareness about the lack of water availability in certain rural areas of Upstate South Carolina. Throughout this experience, I attended numerous town and county board meetings. I immediately developed an interest in the administrative affairs of local government and recognized the influence and the ability to promote positive change as a manager in local government. Throughout my career, I have had a deep passion for helping others and enhancing the quality of life for everyone. As an attorney and holder of a master's degree in public administration, I have been incredibly fortunate to have developed the skillset, education and experience to help make a meaningful impact on local government here in North Carolina.
Tell us something about yourself that members of your community may not know! 
I was the first, last and only student to earn a dual Juris Doctorate and Master of Public Administration at the University of North Carolina at Charlotte. I am also the son and grandson of textile workers and a first-generation college student. I graduated with my bachelor's degree from the University of South Carolina at Upstate and subsequently earned my JD and MPA. 
How has your community changed since you started working in local government? What future changes would you like to see? 
 When I arrived in Ranlo in 2020, the Town had not submitted an audit to the Local Government Commission since fiscal year 2016. Since then, we have become compliant on all our outstanding audits and increased our fund balance from 20% to 66%. We also have been fortunate enough to have been awarded over $10 million in federal and state grants and direct allocations. In the future, we plan to pursue additional funding to undertake large-scale sewer line rehabilitations, water line upfitting and new public facilities for our town hall, police department and public works. 
What accomplishment from your time in your position are you most proud of and why?  
I am proud of the great amount of support and trust that has been placed in me by my governing board. Throughout the last three years, our governing board has faced many difficult decisions, including raising taxes and adjusting utility rates in order to decrease the disparities between revenues and expenditures and meet the requirements of the State Treasurer's Office with the Town being included on the Unit Assistance List. I am proud that we have been able to work together to help improve our financial standing, secure large-scale funding and improve the quality of life for all 4,511 people that call Ranlo home. 
What advice would you give to future local government leaders? 
I always advocate to treat the poorest resident with the same degree of fairness as the wealthiest and that a janitor deserves the same degree of respect as a mayor. Also, in municipal management, it is always important to remember that the role of the manager is to further the goals and objectives of the council that they serve. A manager should advise and recommend but should never allow ego to interfere with their professional responsibility to further the direction that the governing board wishes to lead their community.