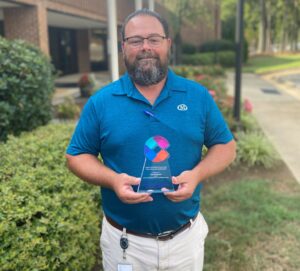 Winner of the 2019 Cross-Community Collaboration Region of Excellence Award
The answers for the following questions were compiled from the award nomination form and an interview with Joe Albright (pictured to the left), City of Gastonia Public Utilities Director, and Stephanie Scheringer, City of Gastonia Wastewater Treatment Division Manager.
What is the Southfork Regional Utility Consolidation Project?
The South Fork Regional Sewer Utility Consolidation Project was a 12-year effort to eliminate antiquated wastewater infrastructure at multiple Gaston County sewer utilities, improve water quality in the Catawba River Basin and spur development by providing sewer to a large undeveloped area. Due to the revenue loss created by the exodus of many in the local textile industry during the late 1990's, several area utilities were faced with the need to address failing sewer infrastructure with very limited resources. In 2007, area leaders met to discuss ways to partner to achieve the mutual benefit of all parties while controlling sewer rates and providing optimal environmental performance. Ultimately, this consolidation project included eight regional partners: Gastonia, McAdenville, Cramerton, Gaston County, Pharr Yarns, Lowell, Carolina Water Service and the Gaston County Economic Development Commission.
What are the benefits of this project?
The project had several beneficial outcomes. By eliminating antiquated sewer infrastructure and rerouting sewer flow to an underutilized facility equipped with the most advanced level of treatment in Gaston County, there has been an improvement in the quality of treated water returned to the Catawba River Basin. Each partner utility has lowered its cost burden and in turn, limited the future cost of service for rate payers. An undeveloped 335-acre area is ready for economic development as it can be now be served by sewer and is in a prime location close to the interstate. Currently, an upscale mixed-use development is in the planning stages for an area along the South Fork River. Finally, by designating easement for future needs, the project sets the stage for additional sewer utility consolidation in Gaston County.
What made the project run smoothly?
Projects like these will inevitably face difficult moments so building strong partnerships and trust make it easier for stakeholders to arrive at decisions that benefit all parties. Communication and remaining open to new ideas were also important to the project's success. Even if there were no major changes in the project, project managers brought the partners together periodically to make sure they were checking in with each other.  If anything had changed, those factors were discussed and addressed.
"It's always important when you get that many people in a room to leave politics and egos at the door and just focus on the benefits for all involved." – Albright
What were the biggest challenges or setbacks?
As Phase II progressed, the partners encountered significant challenges. Midway through design the consulting firm abruptly closed. Gastonia's staff began working to complete the design in-house and contracted with a new consulting firm to finish the plans. Phase II was originally funded by a second Clean Water Management Trust (now known as North Carolina Land and Water) Fund grant for $0.6M and a state revolving loan for $2.2M secured by Gastonia. Construction bids were opened in August 2016. Due primarily to the economic shift that had occurred during the design process and the accompanying increase in construction costs, the low bid was more than double the available project funding. This setback left the partners looking for more money on a project that already took a lot to fund.
What type of budget and resources were required?
As previously mentioned, funding was a major obstacle due to increased construction costs. The project was completed in two phases with a total project cost of $6.7M. It was supported by five grants from the North Carolina Department of Commerce, Golden LEAF Foundation, Gaston County and two grants from the Clean Water Management Trust Fund. Loans were obtained from the North Carolina Division of Water Infrastructure Clean Water State Revolving Fund by Gastonia and McAdenville. Each utility partner also contributed grant matching funds, helped with the engineering design and/or assisted with the completion of some of the project work activities.
Due to project setbacks, two of the agencies needed to issue debt that was not assumed going into the project. Because time was critical and money was difficult, it took a lot to convince partners to stay in the game. Unfortunately, one partner made the decision not to move forward for financial reasons. Constant communication helped convince remaining partners to stay on board and continue supporting the project.
"This was a 12-year project, but the actual construction was only two years. It took ten years just to get the first shovel in the ground." – Albright
What was engagement with elected officials like?
Support and commitment of elected officials was a crucial component. Most partners were government agencies, so councils and commissions had to approve the funding and certain components of the project. Seeking additional grant funds midway through the project to fulfill the second phase required local official engagement with legislators to assist in reaching out to some of the grant agencies.
What advise would you give to someone wanting to do a similar project?
It is important to consider the potential long-term needs and benefits instead of simply focusing only on the current needs. Try to structure this type of construction project to best benefit all the communities involved and even the communities that may be involved in the future. Start by brining all stakeholders together for an honest and open discussion. As you move through the process, make sure that all stakeholders are given the opportunity to provide input and that you fully address any issue. It is also important that all the partners are engaged, listen to each other and remain open to novel problem-solving ideas.
Conclusion
The hallmarks of this 12-year project have been the partnership, perseverance and commitment of the project partners, funding agencies, contractors and engineers. The project faced many challenges and at times, the completion of Phase II appeared out of reach. The South Fork Sewer Project serves as a model for what can be accomplished through open communication and teamwork that build trust and lasting partnerships.
Written by: Lauren Tayara