Using Electric Vehicle Charging to Support Local Economic Development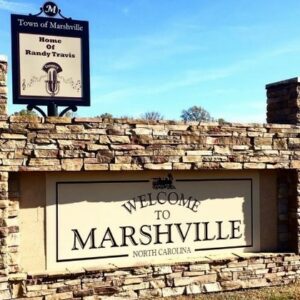 The Town of Marshville, located in Union County, NC, is a small town with big plans for the future. Marshville has just under 3,000 people, sits along the Highway 74 bypass and is about 35 miles outside of the City of Charlotte. Thanks to the Monroe Expressway, trips from the state's largest city to the beach and from eastern counties to the mountains are much faster now. However, Marshville also wants travelers to enjoy its unique local attractions and the small-town charm created by local businesses. Bringing vitality into Marshville requires improvements to U.S. Highway 74.
As transportation technologies advance, electric vehicles have captured an increasing part of the passenger vehicle market and it is important that communities plan ahead so they can meet the needs of the emerging passenger fleet. Electric vehicle adoption in the U.S. has increased by 40% over the last decade and shows no sign of slowing down, so it is important that municipalities plan to implement facilities and infrastructure to support this new transportation type as soon as possible.1 Highway 74 acts as a tourist route from one end of the state to the other but finding an electric vehicle charging station along this corridor can be difficult. The US DOE-run, Alternative Fuels Data Center Station Locator is a good third party charging station finder, however, there are not currently many charging stations located along Highway 74. The closest stations to Marshville are located in Monroe and Wadesboro.
The N.C. Department of Transportation has identified Highway 74 as a key corridor for future electric vehicle infrastructure and there are several efforts to increase electric vehicle support infrastructure across the state. As such, Marshville saw the importance of providing this essential infrastructure and made plans to expand the electric vehicle charging network with a DC Fast charger, bringing visitors into the community to support the economic vitality of the community. The DC Fast charger is the quickest kind of electric vehicle charger, averaging about 100 miles of range in just over half an hour, depending upon the vehicle and the vehicle's normal range, and are ideal for longer travel situations. With grant and consulting assistance from the Centralina Clean Fuels Coalition, the Town received $91,000 in funding for the purchase and installation of a Phase 1 DC Fast Charger as part of the North Carolina Volkswagen (VW) Settlement program2. The grant will cover the cost to plan, purchase and install the electric vehicle charger.
Marshville has already begun the initial planning work for modifying parking spaces and installing electricity to the charger location, a municipal-owned parking lot off N. Elm Street between E. Medlin Street and Walters Road. This location is conveniently near a popular tourist attraction – the new mural of Randy Travis, a local music star. Projects like the DC Fast Charger will act as a conduit for visitors to stop and experience all the new and unique features of this quintessential small town.
If your municipality is interested in transportation sustainability efforts but you aren't sure how to get started, Centralina Clean Fuels Coalition (CCFC) is your local contact for considerations, infrastructure, vehicles, funding and more. Please contact Jason Wager, CCFC Coordinator at jwager@centralina.org or Carina Soriano, CCFC Co-Coordinator at csoriano@centralina.org for more information.
Written by: Carina Soriano and Michelle Nance
The VW Settlement is a national agreement between the German automaker and the U.S. Department of Justice on behalf of the U.S. Environmental Protection Agency for a violation of emissions regulations by VW. As a result, each state has allocations of money to spend on emission mitigation and buyback efforts. More information about the VW Settlement Program in North Carolina can be found here.
Update (December 2021)
The Town of Marshville, in partnership with the Centralina Clean Fuels Coalition, unveiled its new electric vehicle fast-charging station to the public on Monday, Nov. 15. Read more about it in the Union County Weekly or on the Centralina Clean Fuels Coalition website.