Regional Economic Development
Regions are a driving force of today's global economy because talent, capital and markets care little about jurisdictional borders. Our region competes not only with areas in the southeast, but also with areas across the country and across the world. Regional economies that lead the competition are the ones that utilize a cooperative, collective strategy to leverage local assets and address regional challenges.
Two of our regional goals at Centralina Regional Council are focused on supporting robust regional coordination and collaboration around economic development, talent attraction and business expansion. Explore how we foster regional economic development through collaborative planning, implementation, data analysis and grant administration.
Targeted Industry Clusters
The Comprehensive Economic Development Strategy
In our region, the Centralina Economic Development District facilitates collaboration, development and execution of the 2017-2022 "Prosperity for Greater Charlotte," our U.S. Commerce Economic Development Administration (EDA) Comprehensive Economic Development Strategy (CEDS). The CEDS involves a collaborative economic planning process that engages local government, business, education and non-profit leaders in dialog about how to build our regional economy and puts in place a strategic plan focused on making our region a globally competitive and vibrant region.
The CEDS is a five-year strategy intended to guide priorities for economic development in the region. It outlines an approach to coordinate growth and prosperity that builds on the region's strengths and addresses weaknesses, assesses barriers to future growth, prioritizes key regional industry clusters (including advanced manufacturing, financial services, health, logistics & distribution and information technology) and emphasizes collaboration.

To update and implement the plan, the Centralina Economic Development District Board convenes additional key stakeholders from our nine counties who represent the public, private, workforce, education and non-profit sectors. Bringing together a variety of perspectives helps create a more valid comprehensive and cohesive plan that local governments, business and community partners can endorse and support.
The resulting strategy offers a holistic, forward-looking roadmap that addresses all aspects of economic development, including business recruitment, retention and expansion, product development, entrepreneurship, talent development, education, infrastructure, transportation and quality of place.
Goals of the Comprehensive Economic Development Strategy
The plan lays out four primary goals to drive economic prosperity. Within each goal, the plan lists key implementation tactics and an evaluation framework to measure how well the region is doing to achieve its goals.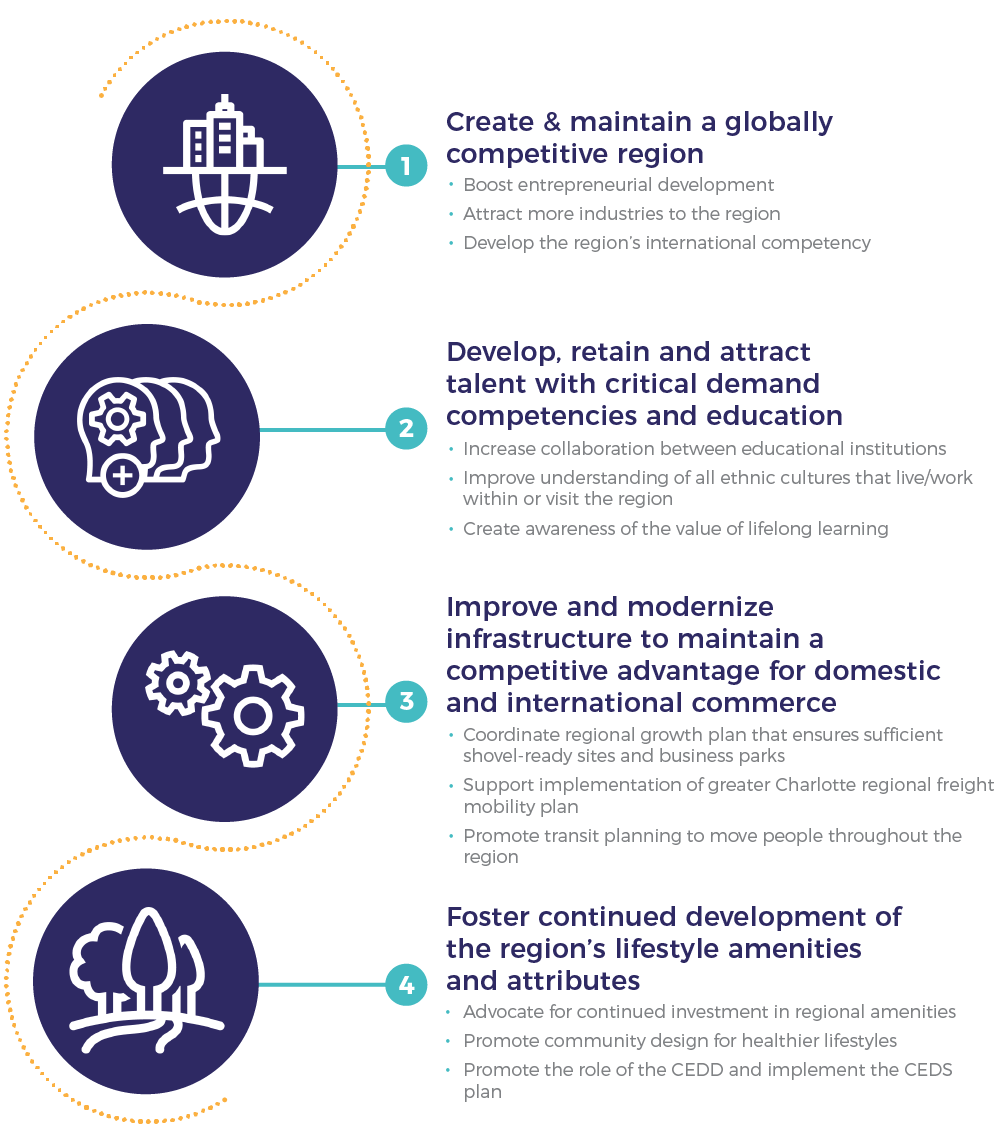 Regional Economic Resiliency Strategy
Another important piece of economic prosperity is resiliency, or the ability to prevent, withstand and/or recover from economic disruptions like economic downturns or natural disasters. The CEDS includes an in-depth analysis of the region's strong, weak, advancing and declining industries, as well as in-demand sector skills and available training. As a result, the CEDS includes the following strategies to maintain industry diversification:
Promote entrepreneurship and small business within communities

Improve and build upon the local workforce

Encourage multiple regional economic clusters

Increase export activity
In 2019 with assistance from the EDA, the Centralina Economic Development District (EDD) innovated the traditional CEDS report production and dissemination by providing a more impactful and useable strategy, along with all its data and economic resources, in an easily accessible online data portal. We digitized the information so regional stakeholders can now access a "live" version of the CEDS that is more accessible, accurate and actionable.
This interactive portal contains continuously updated data on demographics, workforce, industry, entrepreneurship and government investment. It also features a variety of benchmarks to our national metro competitor regions and data profiles for each of the nine counties within the Centralina EDD, as well aggregate boundaries data from Centralina Regional Council, Charlotte Metropolitan Statistical Area and Charlotte Regional Business Alliance.
The Centralina EDD web portal with the "live CEDS" is designed to support governments, economic development organizations and nonprofits in their mission to grow the region, enhance the tax base and promote quality of life. The Centralina EDD has been recognized nationally for the development of this online economic research tool.
Visit the data portal to dive into the plan, track our progress towards implementation or conduct your own customized data search.
Access to EDA and Public Work Grants
Our region's CEDS is developed and managed by the Centralina Economic Development District, a defined geographic region designated by the U.S. Economic Development Administration (EDA). The EDA designates these economic districts across the country to promote regionally driven economy efficiencies. The EDA requires that all districts create a CEDS, believing that these strategic plans are an essential cornerstone for driving successful regional economic development and validating more federal and state funding investment support.

As a result, the counties, cities and towns within our region covered by the Centralina EDD CEDS are eligible to apply for EDA grants that align with the CEDS to fund a variety of potential economic development projects. Local governments can also rely on the Centralina EDD for EDA troubleshooting, technical assistance and grant administration. This is the role served by the Centralina Economic Development District as the official liaison between the region and the EDA.
Ongoing Economic Development Support
Centralina is a leading region when it comes to cross-sector collaboration. In 2013, the Centralina Economic Development District won a National Association of Development Organizations (NADO) Innovation Award for its joint effort with CONNECT our Future in developing a new component of the CEDS. This component provided additional targeted clusters alignment strategies to help leaders understand and link the evolving workforce skills, jobs and education resources across the region. The EDA's CEDS guidelines federal register update in 2015 included Centralina's CEDS as a best practice example of innovative job-centric workforce development and economic collaboration.
The CEDS has also provided crucial economic data for many other regional projects.
The Centralina Economic Development District worked closely with CONNECT Our Future project leaders, providing strategic economic guidelines and data from the CEDS to help CONNECT Our Future build a regional growth framework. CEDS data was also integral in the development of the Regional Freight Mobility Plan and CONNECT Beyond, an ongoing regional mobility initiative.