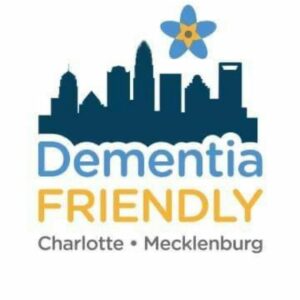 Winner of the 2019 Region of Excellence Aging in Action Award
In 2016, Centralina's Family Caregiver Program Coordinator Sara Maloney and Ashley Stevens aka "The Dementia Guru" convened community stakeholders to start the area's very own chapter of Dementia Friendly America. With help from Centralina Area Agency on Aging, UNC Charlotte's Gerontology Program and members from local government aging programs, the volunteer-based organization became known as Dementia Friendly Charlotte Mecklenburg (DFCM).
The mission of DFCM is to improve the community's understanding of dementia and enhance  the lives of people living with dementia and those who care for them.  Specifically, DFCM seeks to:
Reduce stigma
Reduce barriers
Create safe environments
Improve quality of life
DFCM is a grassroots initiative designed to help educate the community about what it means to live with dementia, an "umbrella" term that describes symptoms associated with brain damage as a result of Alzheimer's Disease or stroke. The group also works to create a more inclusive society for people with dementia, helping them navigate the different places they go in their daily life.
One new way of helping make the community more inclusive is by offering a dementia-friendly certification for businesses. DFCM just finished creating and piloting a business toolkit that offers dementia awareness and communication training and an in-person assessment of businesses. During the walk-through, DFCM checks for appropriate seating, entries, signage and makes suggestions that will be helpful when working with individuals with dementia and their caregivers.
Sara Maloney explained that when environments are safe for individuals living with dementia, they also guarantee safety for other groups that may need extra help such as aging adults or people with disabilities.
To learn more about Dementia Friendly Charlotte Mecklenburg, follow along with them on Facebook or Instagram. If you'd like to become involved with Dementia Friendly Charlotte Mecklenburg, please contact Sara Maloney at smaloney@centralina.org or Ashley Stevens at ashley.stevens@mecklenburgcountync.gov.