Winner of the 2020 Innovation in Local Government Region of Excellence Award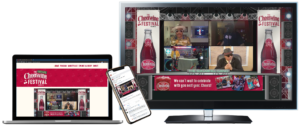 What began as a small 100th anniversary event celebrating Cheerwine's 1917 beginning in Salisbury has evolved through the years into the annual Cheerwine Festival. Within the past three years, the springtime festival has welcomed over 100,000 visitors, provided business opportunities for regional sponsors such as food, beer, arts and crafts vendors and brought a strong day of sales for downtown Salisbury merchants. Cheerwine, the event partner, also ties the festival to a charitable-giving opportunity for non-profit organizations in Rowan County. But when life began to shift due to COVID-19 after the first of 2020, festival planners were faced with a big decision: cancel the beloved festival or adapt to the circumstances.
With careful consideration and guidance from state and federal agencies, Cheerwine and the City of Salisbury decided to cancel the in-person 2020 Cheerwine Festival. At a time when most festival planners across the world were preparing for the worst, planners for the Cheerwine Festival in downtown Salisbury began brainstorming ways to keep the event going. The conversation started with only featuring the scheduled bands on screen with the soft drink tie but developed into a full-fledged entertainment experience. The almost three-hour online event featured pre-recorded virtual musical performances from five acts on a virtual stage and videos from an emcee, Mayor Karen Alexander, participation from Salisbury City Council, advertisements from sponsors and an online marketplace for vendors and downtown businesses.
Linda McElroy, Director of Communications, praised their award-winning Communications Team's work on graphics, stage, lighting and videography. "From the graphics package, including a dancing stage graphic to the timing of recording transitions to the emcee Katie Garner's introductions, it was top notch."
Although COVID-19 prevented people from traveling to the area, the virtual format allowed for reach to people all over the world and put Salisbury on the map. As the festival transitioned to a virtual format, the numbers continued to roll in. Early estimates suggested a reach and engagement of nearly 34,000 people. The festival planning team was even contacted by event personnel across the world to share how they made this possible. Despite the state of affairs and other stressors of stay-at-home orders, the City of Salisbury was able to offer residents and beyond a night of fun, music, dancing and of course, ice-cold Cheerwine, from the comfort of home. Cheerwine also raised funds for the Rowan County United Way COVID-19 Relief Fund through its 2020 festival t-shirt sales.
This year, as the Salisbury Communications and Parks and Recreation Departments looks forward to the usual in-person Cheerwine Festival on September 18th, they reflect on the planning, coordination, collaboration and teamwork it took to make the virtual event happen. "We're so excited to be back out on the street after the year and a half that we've had," said Vivian Koontz, Event Coordinator. "The Cheerwine Festival is a celebration; a celebration of all things Cheerwine, a celebration of all things Salisbury and I think this year is going to be an even bigger celebration of being back together and celebrating everything that's been overcome."
Written by: Lauren Tayara