By the year 2030, one in five North Carolinians will be 65 and older, and the proportion of older adults 85 and over will increase as the baby boomer population moves into this age group. As North Carolina demographics skew towards the older population, learning more about how to serve their needs becomes more important. Getting a head start with Aging and Disability Awareness Training is essential to ensure good customer service for all organizations that work with this population now and in the years to come.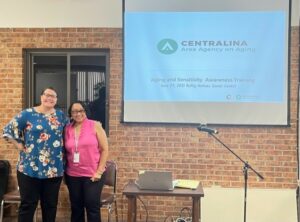 Centralina Area Agency on Aging (AAA) offers Aging and Disability Awareness training as a service to the region. All types of organizations and their employees can benefit from this type of training. Centralina AAA has provided this training for aging service providers, local municipalities, emergency management and corporate organizations. Interested business or groups can contact Centralina AAA to have experienced professionals not only present the facts on aging and disabilities, but also give an interactive experience for participants.
This highly interactive training raises awareness of aging myths and implicit ageism and provides best practices for working with older adults and people with disabilities. A portion of the training includes wearing glasses that simulate vision disabilities and trying out gloves to simulate arthritis or neuropathy.   All of these activities are designed to raise awareness on different aspects and perspectives consider when serving individuals with disabilities. 
If you are interested in contracting Centralina Area agency on aging to provide an Aging and Disability Awareness Training for you or your staff, please contact Katie Kutcher at kkutcher@centralina.org.
On June 29, 2021, Aging Programs Coordinator, Katie Kutcher and Regional Ombudsman, Patricia Cowan met with a group of volunteer drivers with the Rufty-Holmes Senior Center's CARS program.
Related Posts