This year our region lost a tremendous volunteer who served as a dedicated volunteer with Centralina Area Agency on Aging for more than 11 years. Shirley Wiggins was the recipient of the Centralina Region of Excellence Aging in Action award for her dedicated advocacy work for seniors living in the Gaston County area. She served as a volunteer for both the Senior Tar Heel Legislature (STHL) and the Region F Aging Advisory Committee (RFAAC). In addition to her multiple volunteer roles for Centralina, Shirley also served as Chair for the National Silver Haired Congress, a non-partisan organization that advocates for federal-level issues of importance to older citizens through education and awareness development.
During the COVID-19 crisis, Shirley worked with fellow volunteers to address unmet needs in local long-term care facilities. Together with her Gaston County STHL Alternate, Pat Rivers, and a STHL and Silver Haired Congress member from Southern Pines, Gladys Britt, these volunteers donated money for the purchase of masks for staff working in adult care homes in Gaston County. Shirley hoped this idea would take off across the country and reached out to all members of the NC STHL and the National Silver Haired Congress to encourage them to do the same in their areas.
Over the past 10 years, Shirley worked tirelessly to advocate to improve the lives of seniors in numerous ways, including: working with Gaston County to create mo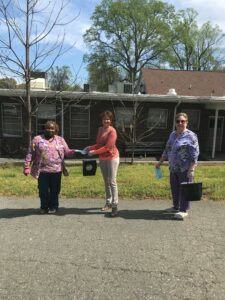 re senior-friendly housing; advocating for increased salaries for long-term care staff; attending the State Senior Tar Heel Legislators meetings in Raleigh; and documenting the history of the NC Senior Tar Heel Legislators. Shirley spent hours talking to senators, legislators and local officials about ways to improve the lives of seniors in our area. Shirley often said, "I do this work to make the lives of other seniors better."
Centralina awarded the Region of Excellence Aging in Action award to Shirley posthumously. The award was accepted by her daughter, Julie Rae Wiggins, during the virtual award presentations in May 2021. Shirley Wiggins was an incredible advocate and is greatly missed.
Read more about Shirley's work HERE.
Header Photo: Shirley Wiggins with fellow Senior Tar Heel Legislators at the NC General Assembly for Advocacy Day in Raleigh NC
Body Photo: Felicia Carothers (left) from Rosewood Assisted Living, STHL members Pat Rivers (center) and Shirley Wiggins (right)