As electric vehicle (EV) ownership becomes more prevalent, access to affordable EV charging will be increasingly important. The easiest place for EV owners to charge a vehicle is at home, however, more than 50% of households nationwide do not have access to dedicated off-street parking. Lack of access to charging is a barrier to EV ownership and is more likely to affect members of historically underserved communities. For these households, curbside EV charging is a viable alternative to help meet EV charging needs. Many local governments, including the City of Charlotte, are evaluating solutions to this problem to help increase equitable access to EV charging. 
Through a 2018 grant from the U.S. Department of Energy (DOE), the Energy Production and Infrastructure Center (EPIC) at UNC Charlotte partnered with the City of Charlotte, Duke Energy and Centralina Clean Fuels Coalition (CCFC), a DOE program housed at Centralina Regional Council to investigate solutions to this issue. The grant provided funding to develop a prototype technology designed to tap into existing streetlight infrastructure for curbside EV charging, lowering installation costs for curbside EV chargers compared to chargers that require the installation of new electrical infrastructure. EPIC collaborated with Duke Energy to develop a prototype for a pole-mounted EV charger, called PoleVolt, and deployed two pilot chargers in the City of Charlotte. The grant also required EPIC to study the viability of implementing this type of technology community wide. For this portion of the project, CCFC staff documented the barriers and opportunities encountered through the PoleVolt deployment process and helped to translate the project takeaways into lessons learned that can inform EV charging deployment for communities across our region and beyond.  
THE CHALLENGE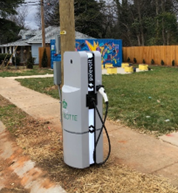 Over the four-year duration of the grant, the first three years were primarily focused on designing the PoleVolt prototype and deploying the pilot charging units in communities within the City of Charlotte. The City was interested in understanding the benefits of PoleVolt's technology, especially in its Corridors of Opportunity – a special economic development initiative for six areas of the City with systemically high unemployment and poverty rates. In February 2022, the first pilot PoleVolt unit was installed at the Ritz at Washington Heights, a new park developed in Charlotte's Historic West End neighborhood along the Beatties Ford Road Corridor of Opportunity.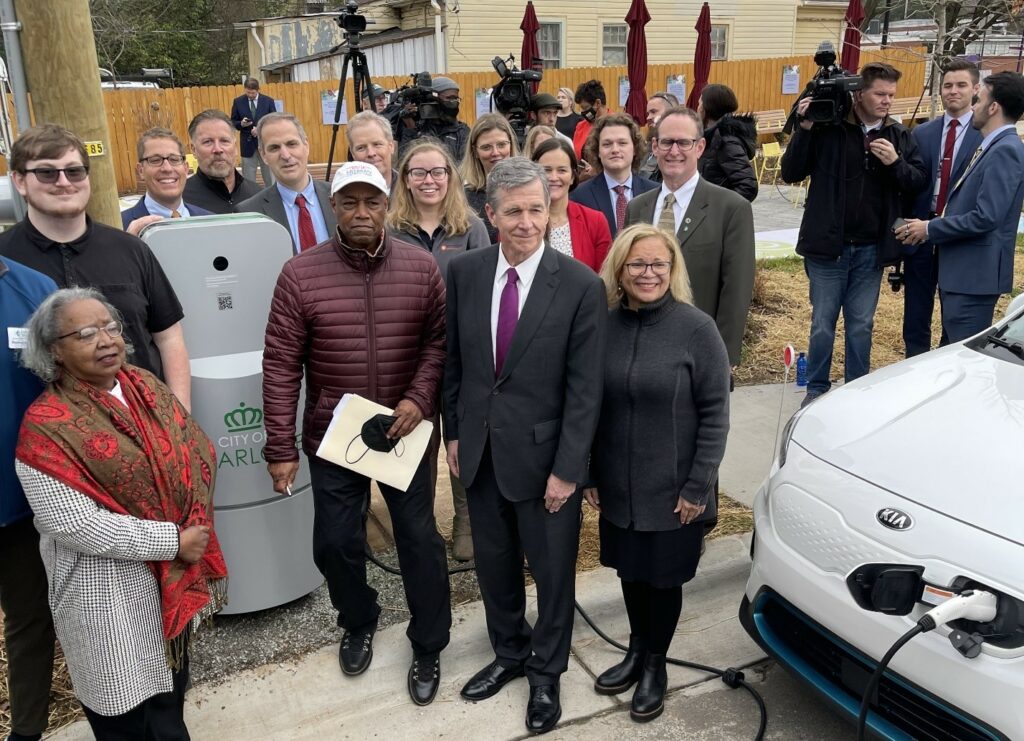 The first pilot installation was successful due to a strong partnership between community leaders, the City of Charlotte and the PoleVolt project team. The City's participation on the project team helped streamline the deployment process and allowed the team to quickly identify and overcome certain barriers that arose, such as the lack of a defined permitting and approval process for curbside EV chargers. However, CCFC recognized that a community-wide deployment effort without the City's direct involvement, as is the case with a pilot project, might face different – and more significant – hurdles that could completely derail deployment efforts if not proactively identified and addressed. Similarly, CCFC understood that a more detailed understanding of the current challenges and opportunities facing curbside EV deployment in Charlotte would be required if project takeaways were to be effectively translated to other communities across the region and nationally. 
THE SOLUTION 
In parallel with the on-site installation of the first PoleVolt pilot charging unit, the project team agreed that a deeper dive discussion would be helpful to better understand the considerations of curbside EV charging equipment for local governments. CCFC led the effort to design and facilitate a one-day strategy workshop with key stakeholders from the City, Mecklenburg County and Duke Energy to explore how Charlotte and other local governments can evaluate key issues related to the deployment of curbside EV charging in the right-of-way at scale. CCFC identified local staff critical to the PoleVolt pilot deployment to attend the workshop, held a pre-meeting with participants to share foundational information and gather input on workshop design and invited participants to an informational gathering at the PoleVolt pilot site at the Ritz to provide a real-world example of the type of infrastructure exemplary of the focus of the workshop.  
The Curbside EV Charging Strategy Workshop was held on July 21, 2022 and focused on the following objectives: 
Explore barriers, opportunities and challenges for curbside EV charging in the right-of-way, both from site-specific and large-scale deployment perspectives; 
Identify actionable items for the City of Charlotte to take up next, particularly related to deployment of EVSE infrastructure in its Corridors of Opportunity; and 
Develop a report that would be useful for local governments considering curbside EV charging. 
Through the inputs gathered during the workshop, the project team identified and developed five critical conversations for the City of Charlotte and other communities to consider when evaluating the benefits of curbside EVSE deployment within the context of other local and regional mobility planning efforts.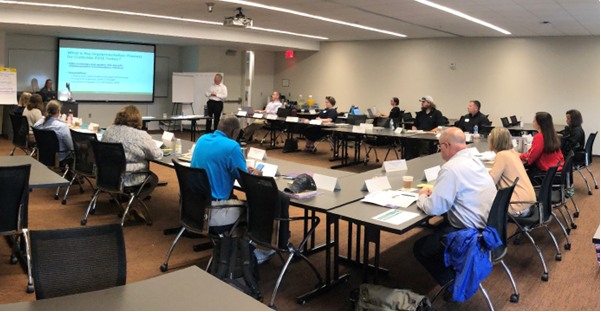 THE RESULTS 
The five major conversations emerging from the workshop are intended to serve as a roadmap for how the City of Charlotte can successfully evaluate and integrate curbside EVSE within the context of City-wide mobility planning efforts. These conversations are specific to the City of Charlotte but could also be useful for other local governments making similar evaluations of curbside EV charging. For each conversation, CCFC identified the lead office, department or agency, called out critical participants who need to be around the table and provided focus questions and discussion points to explore. The five conversations fall into three buckets – policy-focused, operations-focused or externally led – and are as follows:  
Development of a Shared Vision for EV Charging Infrastructure Deployment (Policy) 
Community & Equity Implications for EV Charging Infrastructure (Policy) 
Interagency Coordination on EV Charging Infrastructure Deployment (Policy) 
Site-Specific EV Charging Infrastructure Considerations (Operations) 
Technical Items for Research & Follow-up (External) 
In addition to the five conversations, CCFC produced project learnings for all communities based on the four years of documented project barriers and opportunities. Communities can consider the following questions and decision points when evaluating whether curbside EV charging is an appropriate solution to enhance charging access:  
Pole-mounted charging can be a poor fit for some communities and an exceptionally positive fit for others. Is pole-mounted charging right for your community? 
Consider land use patterns and street configurations in your community. Who has access to garages and driveways? Who relies on curbside parking?  
How do the questions above align with your community's priorities for EV charging deployment (equity, accessibility, affordability and other goals)? Would your target audiences for EV charging deployment rely on curbside charging or would other EV charging technologies better meet their needs? 
What key partners do you need to involve? 
Do you have buy-in from the parties leading and implementing your communities' strategic vision? 
Are you engaging with all stakeholders involved in planning, permitting, installing, inspecting and maintaining EV charging infrastructure? 
How will you involve community leaders and the local utility from the beginning? 
CONCLUSION 
The PoleVolt project concluded in December 2022 and the final project report is anticipated to be published by EPIC and DOE in spring 2023. Additional lessons learned, project takeaways and next steps for communities interested in deploying affordable, accessible EV charging infrastructure will be available. The report will be shared on the CCFC website once complete; in the meantime, if your community is seeking guidance on how to regulate for EV charging deployment and integrate EV charging into your mobility planning efforts, please reach out to CCFC staff members, Jason Wager (jwager@centralina.org) or Megan Upchurch (mupchurch@centralina.org).  
AWARD-WINNING PROJECT 
The UNC Charlotte Energy Production and Infrastructure Center received the Clean Cities Region of Excellence Award in February 2023 for its role in the PoleVolt Curbside Electric Vehicle Charging Project. The award is given to organizations that demonstrate leadership and excellence in clean transportation and alternative fuel activities. PoleVolt's success will be used to inform future installation of public right-of-way charging at the local, state and national levels.