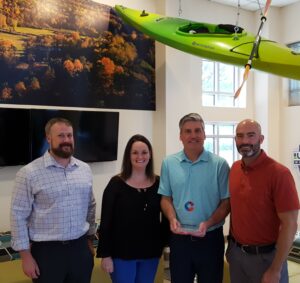 In March 2022 at our annual Region of Excellence Awards, we presented Gaston County Tourism Development with the Local Government Innovation Award for its Community Tourism Action Plan and collaboration with various stakeholder groups. Gaston County Tourism Development is the official tourism department for Gaston County. They have been leaders in local government innovation with an emphasis on partnerships and developing innovative solutions to community development issues. Their dedication to incorporating various stakeholders and communities in the action planning process to increase tourism in the community is a strong example of how departments can work together to increase economic development and stability in the region.
Community Partners
Gaston County Tourism Development collaborated with Belmont Tourism Development Authority (TDA), Gastonia TDA, Mount Holly TDA and residents with the goal of developing a strategy to increase tourism. The participating municipalities will use this framework to align tourism resources and marketing efforts. The following are three projects developed through the action plan:
Gaston County Tourism Development cooperated with Belmont Tourism Development Authority on a sponsorship to help execute and promote year 17 of Holidays at the Garden at Daniel Stowe Botanical Garden. 
In conjunction with the City of Gastonia, the Gastonia Tourism Development Authority, the Gastonia Honey Hunters and CaroMont Health Park, Gaston County Tourism Development secured a three-year agreement with Conference Carolinas to host their Baseball Championships in 2023, 2024 and 2025.
As Mount Holly has continued to evolve their arts scene, Gaston County Tourism Development partnered with Mount Holly Tourism Development Authority to create opportunities to install attention-getting art that will enhance the visitor experience.
We interviewed Director Michael Applegate, CDME to learn more about the impact the organization's action plans have had on the community and his recommendations about how to best navigate government innovation in rapidly growing communities. 
Have you encountered any issues when innovating and how did you overcome them?
Yes. In general implementing change, particularly in collaboration with outside entities, takes time. Patience is vitally important in ultimately establishing any new system. [Some advice for others would be] to stay focused and motivated along the way [and] appreciate and celebrate each smaller win that advances the overarching project to the next stage.
What advice would you give to others who want to improve their multi collaboration efforts?
Lay the groundwork with as many potential partners, with similar goals, as manageable. This happens over months and years as relationships develop, possibilities get shared, reshaped and reconfirmed.
What are some things you hope the community can learn from this program and its successes?
Experiencing the satisfaction of partnering in achieving outcomes that benefit multiple stakeholders. Reaching out to include other organizations in what you envision, whether that specific idea takes hold or not, is worthwhile in and of itself.
Gaston County Tourism Development has been successful in sparking local government innovation through collaboration and taking into consideration how this project could benefit multiple stakeholders. If you want to learn more about this organization's action plans, upcoming projects or services you can visit their tourism website here and their organization site here.