Lake Norman Economic Development (LNED) is a nonprofit focused on increasing economic outcomes in the community by addressing workforce gaps. In 2022, it received the 2021 Cross Community Collaboration Award (small community) for its Journey 360 program and virtual speed networking events that were developed to address workforce trends and provide high school students with educational opportunities. Partners in these workforce initiatives the Lake Norman Education Collaborative (the educational arm of the Lake Norman Chamber of Commerce), the Town of Huntersville, local businesses and Charlotte-Mecklenburg Schools.
When looking to address workforce gaps, LNED found two trends: 1) the skilled workforce is aging out, making the need for new workers higher than ever, and 2) the cost of college is continuing to rise. These trends, plus the fact that LNED had to shift away from how they traditionally supported workforce development due to COVID, led to the development of the two initiatives. The goal was to connect high school students with local businesses and educate them on the various career pathways available to them whether they choose to go directly into the workforce or pursue a four-year degree. Both had a strong focus on the advanced manufacturing, healthcare and information technology industries.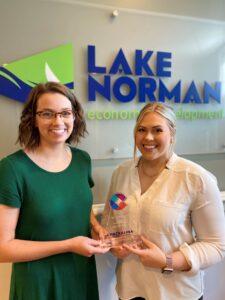 The virtual speed networking event increased the number of students that LNED was able to touch and had the added benefit of reducing the cost and travel time for businesses to participate. Elizabeth Underwood, Lake Norman Economic Development Workforce Development Manager, said that the organization "Had to get creative. We couldn't go to the schools anymore and the students couldn't come to us."
The Journey 360 program is geared towards students that do not plan to attend a four-year university. To convince high school students to stay in the area after graduation, LNED took them to several manufacturing sites to get a "360 degree" holistic view of manufacturing. Students had the opportunity to meet with staff from various departments including HR, IT and administration to better understand what the industry is like today. Following the manufacturing tours and discussion panels, students visited the local community college to learn how education courses can help propel their careers forward.
At one Journey 360 event, six students applied for employment the day of and were hired a week later. Underwood stated, "This is the first time we've had an event where we've had a measurable impact because workforce is hard to quantify." She went on to say, "Journey 360 and virtual speed networking were two large workforce events that would not have been possible without the strong relationships and groundwork that each organization brought to the table."