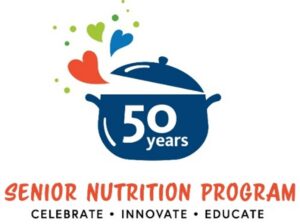 Fifty years ago, on March 22, 1972, the Older Americans Act was amended to include the Senior Nutrition Program (SNP), a nationwide community-based service that includes congregate and home-delivered meal options. The SNP in North Carolina has been successfully providing access to healthy meals, nutrition screening, nutrition education, socialization and other supports to allow adults ages 60 and older to remain in their homes and communities longer.   
Why This Program Is Important
Twenty-three percent of NC's population is over the age of 60. Of these older adults, over 15% are threatened by or experiencing hunger and over 25% live alone. Providing a nutritious meal and social connections helps address these barriers while also promoting health and well-being.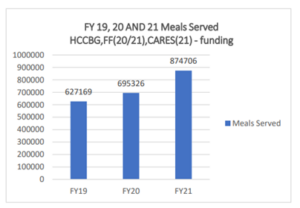 Meeting these needs has been especially important during the restrictions and lockdown imposed by the Covid-19 pandemic. Luckily, with increased federal funding from the Families First Act and CARES Act, Centralina's nine-county region SNPs pivoted quickly, developing innovative and creative ways to continue serving the older adult population and meet a rising demand. The table reflects an unprecedented increase over 39% of meals served in our nine-county region. 
Flexibility under the Covid-19 relief funding allowed providers to build infrastructure through the purchase of scheduling software, warming equipment and vehicles to meet the needs of the growing number of SNP participants. Centralina Area Agency on Aging administers, monitors and provides ongoing technical assistance for the SNP federal and state funding dollars in our nine-county region.