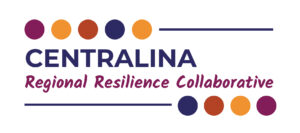 Upon identifying a significant gap in disaster recovery processes, the Centralina Economic Development District (EDD) embarked in a collaborative process that connects the region in developing long-term disaster recovery plans. In April 2021, the Centralina EDD partnered with Centralina Regional Council and the nine-county emergency management (EM) directors to launch the Regional Resilience Collaborative (RCC) program. The RRC program examines the viability and resiliency of EM disaster recovery plans and economic resilience needs to ensure the region benefits from greater efficiency in responding to current and future natural and man-made disasters and economic shocks. 
Over the past five years, North Carolina has experienced several major natural disasters, including several overlapping events, which are becoming more and more prevalent.  Local governments must navigate complex financial reporting and compliance requirements while working within constrained post-disaster operating environments. Concerns over the successful and efficient administration of recovery funding prompted the North Carolina General Assembly to provide resources to develop and deliver a comprehensive financial administration training program for local governments. In the State's 2021 Budget, the North Carolina General Assembly included an appropriation to the North Carolina Association of Regional Councils of Governments (NCARCOG) to support local governments in effectively managing and building capacity for local and regional disaster recovery, mitigation and resiliency efforts.  
The goal of these state dollars is to provide guidance and technical assistance to local government units as they administer disaster recovery funds and mitigation and resiliency efforts. Centralina serves as the NCARCOG administrator for the Disaster Recovery Financial Administration component, which includes a financial administration curriculum that reflects the needs of the 16 Council of Governments (COGs) across the state. In addition, Centralina is leading via the RRC, the NCARCOG Regional Recovery Capacity Grant component. The 16 COGs across the state are also completing specific scopes that reflect their region as part of the NCARCOG Regional Capacity Grant component. In summary, the two components are as follows:  
Development of disaster recovery financial administration training and deployment of said training in each COG region; 
Implementation of specific disaster recovery and resiliency capacity building and planning activities in each region as proposed by each COG based on local needs.  
As part of the RRC program, Centralina supports the development of Pre-Disaster Recovery Plans and Recovery Function/Committee Annexes beginning in March of 2023 and going through June of 2024. Tools, such as a Disaster Plan Development Guide, Pre-Disaster Recovery Plan templates and the Centralina Regional Resilience GIS Web App, which maps hazards and conditions throughout the region, will be available to support in facilitation. During this process, local leaders are encouraged to prioritize recovery planning, encourage all departments to support, identify additional stakeholders and understand legal authorities. 
For more information about the Regional Resilience Collaborative project, please contact Christina Danis, PhD., AICP at cdanis@centralina.org or 704-688-6502.