The Greater Charlotte Region is growing, and growing fast. Access to reliable, efficient and well-connected transportation options is one of the most important factors to ensure everyone can benefit. We need to find solutions to promote and harness economic growth, while helping our neighbors and visitors easily get where they want and need to go. This will require collaboration, insight, creativity and a bold vision.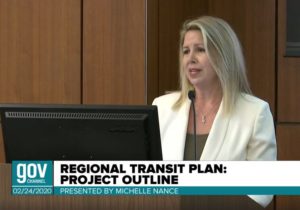 On February 24, 2020, representatives from twelve counties across North and South Carolina met to launch this region's first bi-state transit plan, to be called CONNECT Beyond: A Regional Mobility Initiative [watch the Facebook Live video]. The project will unfold over the next eighteen months under the direction of Centralina Council of Governments and the Metropolitan Transit Commission, CATS' policy board. The project area includes twelve counties in a geographic area covering over 5,000 square miles, a population of roughly 2.5 million people and close to twenty separate transit agencies. Coordination of plans and investments are key to our continued economic competitiveness.
While the CONNECT Our Future regional growth initiative and other plans have set the stage and serve as a strong foundation for this work, the CONNECT Beyond Regional Mobility Initiative is not simply a continuation of an earlier plan; it's fundamentally bigger and more ambitious. We're talking about doing something that hasn't been done before, crossing all the lines, breaking out of silos, organizations, departments and all the other dashed lines that split up our region. This is the start of something big.
This "mobility initiative" is about envisioning how individuals will move from place to place across arbitra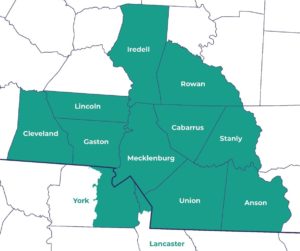 ry boundaries to get to work, school, medical appointments and other daily services by public transportation – or transit. Specifically, CONNECT Beyond will:
Define a single, coordinated transit vision for the project study area that includes multiple transit modes and serves as our "north star."
Identify high capacity transit corridors that build upon and complement the Charlotte Area Transit System 2030 Transit Vision and other regional and local transportation plans.
Strategize on key topics and methods for regional coordination that cross modes of transit technologies as well as organizational and geographic boundaries.
Develop action-oriented implementation approaches and near-term "wins" that support:

Improved mobility and access
Effective and regionally coordinated transit investments
Coordinated transit operations to meet the needs of a growing and changing region and population.
What will be required for this region to reach its aspirations for transit?
The region has to agree on a bold vision. Through this plan, we will need your participation and inputs so that a consensus vision can be achieved.
We'll need strong and active business community support on the concepts that emerge from the plan.
Transparency and community involvement is a given. We'll need your assistance in communicating engagement opportunities to your local residents and stakeholders to ensure a broad base of participation.
We'll need elected official champions – both locally and at the state level – to lead the initiatives that emerge from the plan.
Cooperation among local governments and agencies is required, including the ability to see the big picture, beyond your jurisdiction, and
We will need to be open to funding discussions that may be new and different, moving forward based on each community's appetite for change.