According to Project for Public Spaces, placemaking "refers to a collaborative process by which we can shape our public realm in order to maximize shared value. More than just promoting better urban design, placemaking facilitates creative patterns of use, paying particular attention to the physical, cultural, and social identities that define a place and support its ongoing evolution. With community-based participation at its center, an effective placemaking process capitalizes on a local community's assets, inspiration, and potential, and it results in the creation of quality public spaces that contribute to people's health, happiness, and well-being."
Over the last year, Centralina partnered with local governments on placemaking initiatives to help create vibrant and engaged communities. In spring of 2019, we held our annual Regional Conference where Peter Kageyama led a half-day workshop that showed participants how to create emotionally-engaging places. Peter outlined steps that local government staff and residents can take to create an effective placemaking process in their communities.
Following the works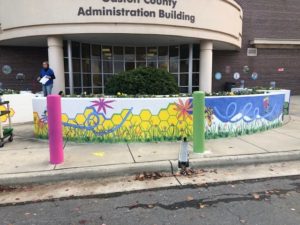 hop, we released a "Love Where You Live" grant opportunity and after careful review of the applications, we awarded Gaston County and the City of Statesville a $500 grant to facilitate projects that would enhance community pride and engagement. Gaston County transformed the rear entrance of the County Administration Building after holding two themed art competitions, o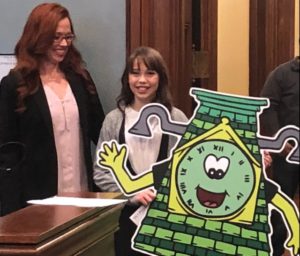 ne for the mural design of the rear entrance wall and another for the large planters along that wall. Each winning mural design is "colorful, lively, lovely and fun," with the theme centered around the parks, greenways, culture and amenities of Gaston County. The City of Statesville held a city mascot competition where they asked the public, including school students, to submit a design for a character that represents all things Statesville. The winner was 11-year old Lena Phillips who created Mr. Towerston.
As featured in a previous newsletter article, Centralina has also partnered with Open Streets 704 in Charlotte for pilot placemaking initiatives including painting the pavement in front of the Greater Galilee Baptis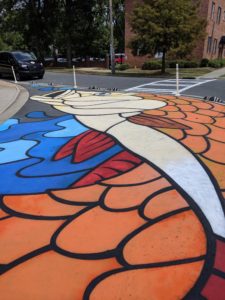 t Church located at the corner of W Park Ave. and S Mint St. This project was funded through an Aetna Foundation: Cultivating Healthy Communities grant and made possible thanks to over a hundred volunteers that helped to paint the large water scene mural September 15, 2019. Similar pilot projects are planned for the upcoming Open Streets 704 in the NoDa and Veterans Memorial Park area on April 19, 2020.
If you're interested in creating your own pavement art project, check out the free Bloomberg Philanthropies' Asphalt Art Guide that features over two dozen case studies highlighting successful plaza and roadway art activations around the world, and a how-to section for cities interested in undertaking their own projects. Another free placemaking guide designed to help elected officials, planners, policymakers and involved residents use temporary projects to improve communities for people of all ages is available through AARP. The Pop-Up Placemaking Tool Kit includes "recipes" for demonstrating and implementing positive change. AARP also has a placemaking funding opportunity (applications are due March 13) called the Creative Counties Placemaking Challenge that invites counties with populations of less than 150,000 to identify and strengthen ways to integrate arts into solutions to local challenges.
For more information about Centralina's Placemaking Projects and future funding opportunities, please contact Katherine Hebert Godwin at khebert@centralina.org or 704-248-2708.