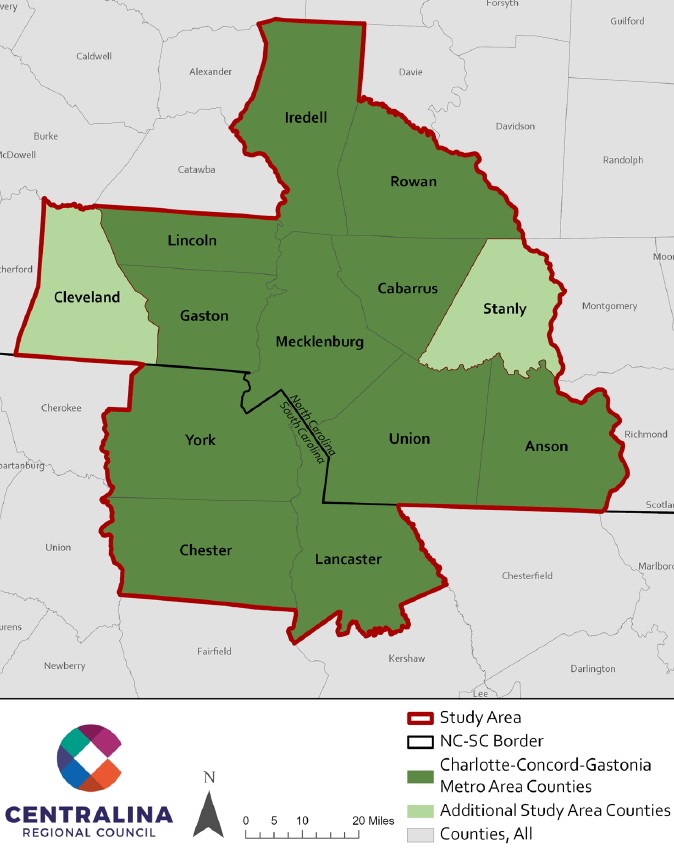 Centralina Regional Council received a $1 million planning grant through the U.S EPA's Climate Pollution Reduction Grant Program, a two-stage grant program that includes funding for noncompetitive planning grants and competitive implementation grants. Our staff will serve as the lead entity for the 13-county, bi-state area and will prepare a series of plans designed to support local needs and priorities toward improving air quality and reducing greenhouse gas emissions. The plans created by Centralina and its partners will ensure that regional goals are met while increasing local revenue streams and providing a framework for coordinated investments.
Centralina will lead coordination with regional partners, stakeholders and advisors across North and South Carolina to create a regional plan that will produce a playbook of investment options to help communities retain clean air for generations to come by supporting local mobility options, securing newer technologies for fleets, buildings and waste management, enhancing local logistics and distribution systems and the local food economy and/or planning for electric vehicle infrastructure. This framework will provide each unique community the tools to implement solutions that address the local needs they find most urgent and beneficial.
Completion of a regional Climate Action Plan enables local governments to apply for $4.6 billion in funding, authorized under the Inflation Reduction Act, to implement local projects for efficient infrastructure, energy and waste management systems, transportation systems and energy efficient buildings. Additionally, the plan will be developed in coordination with other climate pollution plans in North Carolina. 

Core Regional Partners
Catawba Regional Council of Governments
Mecklenburg County Air Quality
UNC Charlotte's Energy Production & Infrastructure Center
How to Get Involved
Centralina and our partners will hold stakeholder engagement sessions throughout the process to incorporate public feedback. For additional information, contact Deputy Director Michelle Nance at (704) 348-2709 / mnance@centralina.org or Regional Planning Director Jason Wager at (704) 348-2707 / jwager@centralina.org.