Centralina Workforce Development Board Rolls Out New Mobile App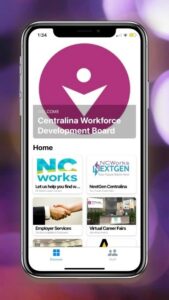 Centralina Workforce Development Board (WDB) is proud to introduce the new Centralina WDB Mobile Application for Android and iPhone users. This app was developed to provide a central location for users to access employment services provided by Centralina WDB and NCWorks Career Centers. The app serves as a central point of information for workforce development services including hiring events, workshops, employer services, event details and career assessments.
The app was designed to serve as a one-stop access point for career seekers and employers to find valuable resources needed to connect individuals who are seeking employment with employers who are hiring. Centralina WDB Mobile App was officially rolled out to the public on May 7, 2021. Multiple partners and agencies were instrumental in the development of this app including NCWorks Centralina Program Director, Kim Carpenter; Deputy Project Director, Amy Weatherman; NextGen Services Leader, Monica Gambling; NCWorks Career Center Leader in Town of Stanly, Gus Vanegas; Centralina WDB Executive Director, David Hollars; and Equus Special Projects Director, Ken McCoy.
"The Centralina WDB App is another example of how the Centralina Workforce Development Board creates innovative solutions to address workforce needs in our region," said Centralina WDB Executive Director, David Hollars. "This valuable tool provides employers and career seekers one location where they can connect with us quickly so that we can help fulfill their needs," Hollars added.
As the team worked to develop the app, they incorporated accessible features to ensure that our workforce development services would be used by individuals of all abilities. One of those features includes NextGen services and notifications. This feature enables young participants to receive employment guidance, access to updates on NextGen Council Meetings, monthly developmental sessions and LEGACY training.
This app is essential in connecting Centralina WDB to customers to keep them informed of available resources and services. Centralina WDB's goal is to meet the the Centralina region workforce wherever they are. The Centralina Mobile App is available on Google Play for Android and the App Store for iPhone. Easily find the app by searching for "NC Centralina" and download it at no cost. For additional information on the Centralina Workforce Development Board, please visit the website here.