This year marks the 30th anniversary of a major milestone in our nation's history, the signing of the Americans with Disabilities Act (ADA). President George H.W. Bush signed the ADA into law on July 26, 1990. Explained by President Bush during the 1990 signing ceremony, "This act is powerful in its simplicity. It will ensure that people with disabilities are given the basic guarantees for which they have worked so long and so hard: independence, freedom of choice, control of their lives, the opportunity to blend fully and equally into the rich mosaic of the American mainstream."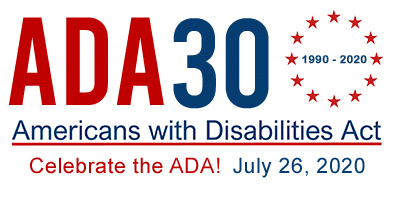 This landmark legislation has helped increase inclusion and opportunities for people with disabilities in every aspect of American life as it protects people with disabilities against discrimination. The ADA is a Civil Rights law for persons with developmental disabilities, and the Act affirmed our nation's founding ideals and a cornerstone of our efforts to ensure a fully inclusive American workforce and economy. ADA ensures that more Americans have equal opportunity to thrive in fulfilling jobs that grow our economy. The ADA has impacted quality of life by promoting self-sufficiency for individuals with disabilities and equal access to all aspects of community living.
Although this anniversary marks a significant milestone for disability advocates and organizations working to advance the goals of the ADA, there is still more work to be done. According to the Labor Force Characteristics Summary (2020, Feb. 26) U.S. Bureau of Labor Statistics, one in five Americans has a disability, but the community continues to be widely underrepresented in most facets of society. The 2019 workforce participation rate among people with disabilities was 19.3% compared to 66.3% who work among those without disabilities. The COVID-19 pandemic has exposed enormous gaps in the U.S. healthcare system, because of prejudices and biases against people with disabilities. Advocates for the ADA continue to work to improve the quality of life for persons with disabilities. For more information go to www.adata.org to access the ADA National Network.
Centralina Regional Council will offer Americans with Disabilities Act: Disability Awareness Training on Oct. 29, 2020, 9:30 – 11:30 a.m. Centralina can also provide training and technical assistance on The Americans with Disabilities Act to public and private entities. For more information contact Patricia Garner Cowan at pcowan@centralina.org.