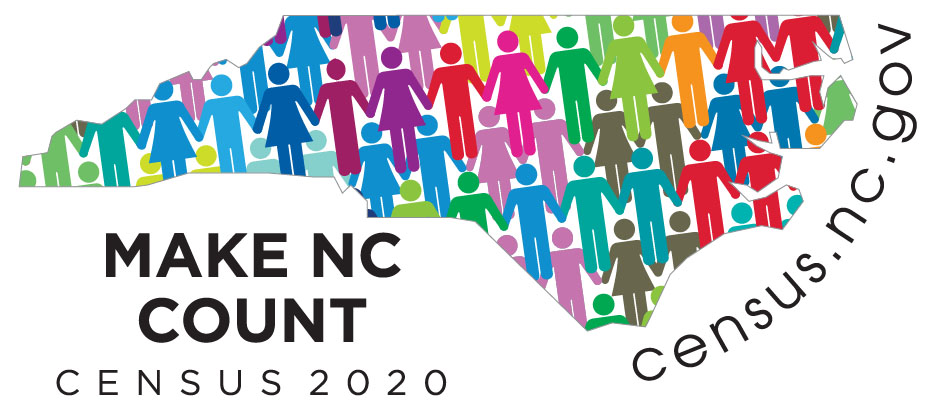 The deadline to respond to Census 2020 is now earlier than initially planned and set for September 30, 2020. Across the country, communities are coming together to promote awareness of the new deadline and the importance of responding to the Census; unfortunately, North Carolina ranks 37 out of 50 in the national self-response rate and an estimated 4 million people still need to be counted.
So how is our region doing? Overall, our region's self-response rate by county is strong compared to other parts of the state, but well below the averages from 2000 and 2010. Union County leads the state with a response rate of 72% as of August 27th but the average across all of our nine counties is only 63%. This is 15% less than our average regional response rate from 2010!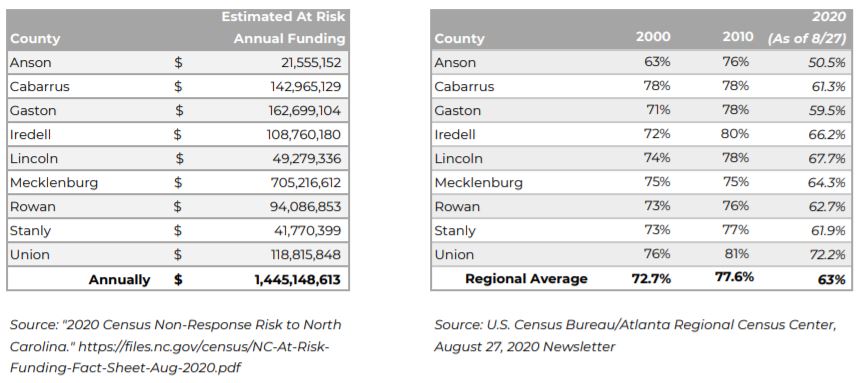 What's at stake? We know that the Census provides critical data for redistricting and planning to improve schools, roads, health care, emergency response and other services, but it also has an impact on the amount of federal and state funding distributed annually either directly or indirectly.​ The State of North Carolina estimates that $7.4 billion in funding is at risk based their analysis of the response rates as of August 11th.[1] In our region, we risk losing $1.5 billion in annual funding for a wide range of programs that support schools, infrastructure, housing assistance, seniors, veterans and children. If you consider this amount over the next ten years until Census 2030, we could lose $14.5 billion in funding for our region and our constituents. (Funding chart by county)
It's not too late for our local governments, institutions and private sector partners to make a final push to increase our response rate. You can still be counted at home by internet (my2020census.gov) by phone (844-330-2020 in English, 844-468-2020 in Spanish) or by paper questionnaire.
Here are five things our local governments and elected officials can do to advocate for a complete count:
Promote Census 2020 response and the September 30th deadline on social media. Your constituents may not know that the response deadline has been moved up to September 30th. Help spread the word on social media to #MakeNCCount. Here is a link to sample tweets, info-graphics and other resources.
Speech drop key facts at your next county commission or local government board meeting. This PDF prepared by the NC Census and the NC Counts Committee includes two versions of talking points, including one for a 20-30 second announcement.
Collaborate with your local school district. Ensure your school district has https://my2020census.gov/ as an approved or authorized website; this will enable families with school issued laptops to access the site and complete the online Census form. Also consider putting flyers in school meal packages and promote Census 2020 during pickup hours.
Connect with your faith community and encourage speech drops in upcoming services.
Connect with your local chamber of commerce to discuss engagement and suggest ways to promote Census 2020 among employees of local businesses.
Written by: Geraldine Gardner
---
[1]NC Census, 2020. https://files.nc.gov/census/NC-At-Risk-Funding-Fact-Sheet-Aug-2020.pdf