Centralina Workforce Development Board Staff are Front and Center
The year 2020 made for a challenging and unique year for all, but NCWorks was determined to move into 2021 with optimism and hope. Yearning for normalcy, everyone was committed to coming together virtually for the annual NCWorks Partnership Conference, which was held virtually October 12-22, 2021.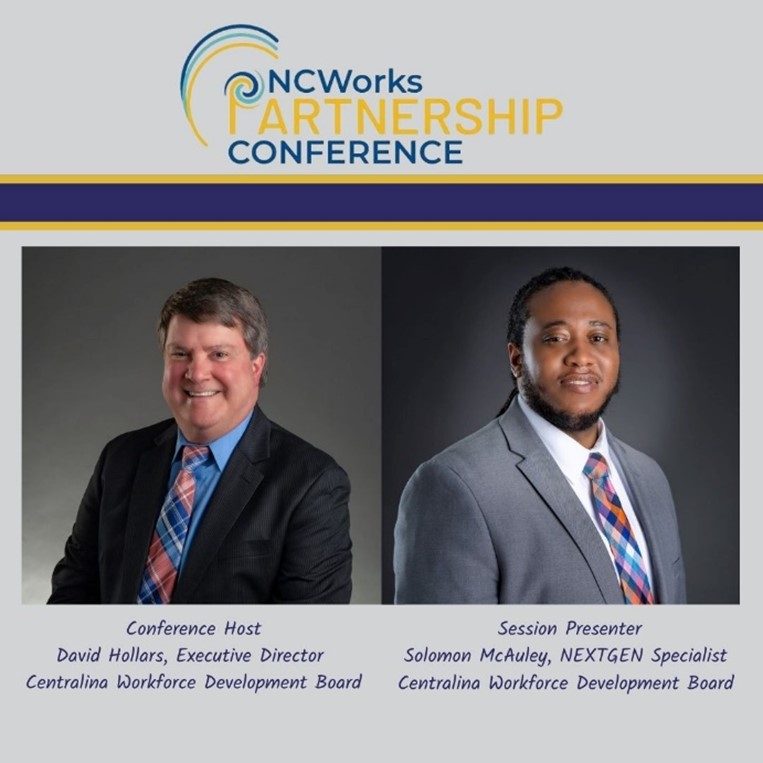 The theme was "NC Strong: Our Story of Resilience" and we were proud that Centralina Workforce Development Board Executive Director David Hollars and NextGen Specialist Solomon McAuley were selected as speakers. David was the conference host and opened the event by recognizing North Carolina's resilience during the COVID-19 pandemic. "It was my honor to again host the NCWorks Partnership Conference. The professional development opportunities and exposure to new ways of providing workforce and economic development services is invaluable to anyone in our line of work. Congratulations to Gene Scott and her team at the NCWorks Training Center for another outstanding conference," said Hollars.
Solomon McAuley, along with presenter Alexis Franks of Telamon Corporation, presented a session titled "Like, Follow, Share: Youth Engagement in a Virtual World" where they focused on issues strengthening soft skills of youth, career recruiting post-pandemic and keeping youth engaged in a virtual environment. "The planning committee has been able to make the last two years effective even while providing a virtual conference that has still been engaging and thought provoking, however, I cannot wait until we have this conference in person again," stated McAuley.
The conference offered 12 virtual sessions from partners like the NC Department of Commerce and included special guests Governor Roy Cooper, North Carolina Association of Workforce Development Boards President Rodney Carson and Chet Mottershead, Assistant Secretary Division of Workforce Solutions, NC Department of Commerce. For more information and highlights from this year's NCWorks Partnership Conference, please visit the NC Commerce website.