In early November 2021, Catreana Harris rang the bell at NCWorks Career Center-Stanly after obtaining employment. Ringing the bell recognizes the career seekers who have been able to obtain a job. Before this, Catreana had lost her position as a home health aide due to physical health conditions that prevented her from heavy lifting.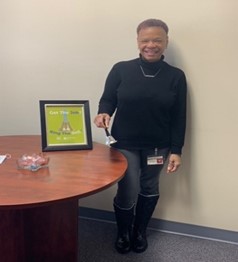 Catreana needed to find a new way to financially support herself and sought employment assistance from NCWorks Career Center in Albemarle. The NCWorks staff looked for new ways to apply her passion for healthcare and medical skills background to a related field. Catreana was subsequently placed in a Centralina WDB-funded work experience and hands-on training position as a medical office assistant for Alliance Health and Homecare (Alliance) in Albemarle, NC. Alliance was so pleased with Harris's performance that management offered her full-time employment as an apprentice.
"I so appreciate NCWorks and Centralina for helping me at the time of my need. I say to NCWorks and Centralina, keep on helping others like myself [who are] looking for employment or training to better themselves in life," stated Catreana. "Again, I say thank you for all you do and all the lives you have touched and helped."
In January 2022, Ms. Harris enrolled in MedCerts to continue her education and gain her medical office assistant certification.