On March 31, 2002, the Charlotte Douglas International Airport (CLT) Aviation Academy graduated its fifth class comprised of public sector, private sector and community leaders from across the greater Charlotte region. The Academy provides a unique opportunity to better understand the inner workings of CLT and its contributions and impacts on our region's economy, transportation system and community.
Aviation Academy classes are limited to 25 participants who are selected based on a competitive admissions process. Since 2017, over 100 participants have graduated. Alumni include 22 local government elected officials and staff representing Anson County, Belmont, Cabarrus County, Davidson, Gaston County, Gastonia, Huntersville, McAdenville, Mint Hill, Monroe, Mooresville, Mount Holly, Stanley, Statesville, Troutman and Wingate.
Mooresville Mayor Pro Tem Lisa Qualls (class of 2022) said, "I am so grateful for being able to participate in the 2022 Aviation Academy. The insights and behind the scenes tours were incredible enlightening. We [Town of Mooresville] refer to CLT as a major tool in business recruitment. Now with an even deeper education of the numerous components of the airport, I can offer additional information of how the airport is able to support many components of economic mobility. I was surprised and appreciative of the vast number of employees on the campus on a daily basis. CLT is a major employer and huge economic driver just in itself. We are so fortunate to have one of top airports in our region, this puts our entire region on the map for site selection of both business and personal needs."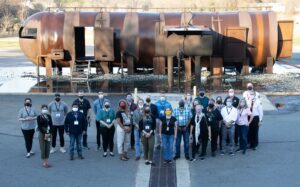 The Aviation Academy covers nearly every area of CLT including business, revenue, safety, security, CLT as a hub and landlord, its complex systems, its role as an employment center, economic development and capital campaign projects. Each class gains behind-the-scenes access to current operations and future planning efforts designed specifically to help participants understand how CLT affects the local and regional economy.
Since 2018, Centralina Regional Council staff has worked with CLT staff to design, plan and implement each Aviation Academy class. In addition, Centralina facilitates the application process, manages registrations and sponsorships and is the main point of contact with each class.
The application period for the 2023 class will likely open this fall. If you are interested in learning more about the CLT Aviation Academy, please contact Emily Parker at eparker@centralina.org.