Elder Abuse is a universal problem that is, unfortunately, on the rise as longevity increases. This type of abuse comes in many forms, including physical, emotional and financial, and can occur anywhere by anyone. Raising awareness of the problem of elder mistreatment requires the education of communities and individuals. Abuse and neglect of older persons is grossly under-reported and under-recognized. Estimates reveal that only one out of every twenty-three cases of mistreatment is reported to be investigated. Public education campaigns are vital for informing communities about elder abuse, which is why the International Network for the Prevention of Elder Abuse promotes the 7th Annual World Elder Abuse Awareness Day (WEAAD).
Crimes against older adults can vary greatly, making the problem more difficult to recognize. For example, a bank teller might be best suited to recognize a case of financial exploitation, while a physician or neighbor might be best suited to recognize indicators of physical or emotional abuse and neglect. Because elders can be mistreated in different ways, efforts to combat the problem must be equally diverse. While many agencies work to prevent, report, investigate and prosecute elder mistreatment, no single agency has all the resources needed to address the varied forms of elder mistreatment.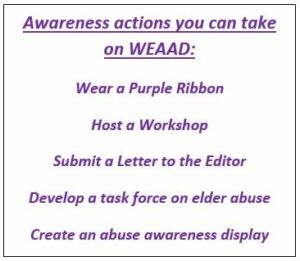 WEAAD is celebrated annually on June 15th. On this day across the globe, governments, organizations, educational institutions, religious groups and interested individuals promote awareness by organizing activities to increase understanding of this tragic problem. Raising awareness of elder abuse and neglect is a daunting challenge but no effort is too small.
In addition to ongoing efforts to provide education about elder abuse prevention, Centralina Area Agency on Aging has participated in numerous World Elder Abuse Awareness events annually since 2010. This year, Centralina Ombudsman staff conducted an "Elder Abuse & The Effects of COVID-19" training for the Union County Violence Prevention Task Force and helped plan the Iredell County Scam Jam two-part educational series on June 3rd and June 17th.
Individuals, agencies and municipalities can take simple steps to raise awareness or plan outreach activities using the many resources found at the USC Center for Elder Justice website including outreach tools and a social media toolkit with pre-written articles and custom graphics. Contact the Centralina Ombudsman Program at 1-800-508-5777 for more information or to schedule a presentation to help spread elder abuse awareness.