On Tuesday, November 30, 2021, Centralina Workforce Development Board (WDB) celebrated the opening of its Opportunity Site, housed in the HOLLA! Community Resource and Community Development Center, a nonprofit organization that provides a variety of services and programs that aid in increasing the test scores of youth so that they are better equipped to make positive contribution to the community and society. This site in Morven, NC (Anson County) is part of the NCWorks NextGen program that helps young adults with at least one barrier to employment find and keep jobs.
Why It's Important
The statistics from our region showed that the youth are being held back due to the lack of transportation, access to technology and support in our rural areas. These facts were confirmed for Anson County when Monica Gramling, NextGen Programs Leader, held a local forum in September 2020 with Anson County professionals and government officials to discuss the needs of the county. The group agreed that having a site that's located within the marginalized community would help participants overcome the accessibility barrier and give them the support they needed to become self-sufficient. All opportunity sites like this one in Morven will be staffed with trained, caring NextGen professionals who will be available to guide youth and help them make decisions around their future that will allow them to develop their full potential. Funding for this site was made available through a Youth Initiative Grant, awarded to Centralina WDB by the NC Department of Commerce.
About the Event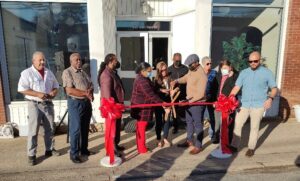 The event featured a ribbon cutting ceremony on Main Street where special guest Shelby Emrich, Anson County Chamber of Commerce President, discussed the importance of the partnership between Centralina WDB, NextGen, NCWorks and the HOLLA Center in helping youth navigate and prepare for the workforce. HOLLA! Center founder Leon Gatewood shared his excitement for this new opportunity site, stating "Today is like a dream come true because when we started, we wanted to be a resource for the community, so to have this program here, this opportunity site is just amazing to us."
Monica Grambling, who organized the ceremony, and Centralina WDB NextGen Specialist Solomon McAuley have been working closely together to ensure that this partnership and grand opening was a success. "We are definitely excited about what this opportunity brings to the Town of Morven and also to young people ages 16-24," said McAuley.
Want to Know More?
For more information on resources and opportunities, visit https://centralinaworks.com/ or download the free Centralina WDB mobile app, available at the Google Play Store and the Apple Store.
You are also invited to join us on Wednesday, Feb. 23 for another Opportunity Site opening in Polkton at the Burnsville Learning Center.