What is a Mobility Hub?
Mobility Hubs are places of connectivity where people can conveniently access multiple travel options. A mobility hub is a focal connection point and can signify a downtown, major activity center, transit station or stop location where multiple different mobility options meet up and allow a user to transfer from one mode to another. Mobility hubs offer a range of integrated mobility services and supporting amenities/technologies to facilitate efficient connections and make trip planning easier. Mobility hubs also strengthen the connection between rural and urban areas, improving commute times and better connecting people to resources.
Mobility Hub Types
There are no one-size-fits all designs for mobility hubs, instead they are scaled to reflect the unique context and needs of a particular area. Each type of mobility hub offers a collection of elements that allows the site to function as a seamless mobility connector for its given location. CONNECT Beyond's region has a wide variety of geographies and consists of rural, suburban and urban areas, each with unique needs for mobility hubs. To meet the region's diverse needs, CONNECT Beyond developed a Mobility Hub Framework which organizes mobility hubs into four different levels:
Level 0: Neighborhood Node – Neighborhood nodes have a smaller footprint and can have the potential to serve rural communities or other places with limited transit options or gaps in service coverage.
Level 1: Optimized Bus Stop – Optimized bus stops can be located in rural, suburban and urban areas to serve a bus stop with low to moderate trip demand. Optimized bus stops could be located along emerging mobility corridors.
Level 2: High Activity Center – High activity centers can be located along both emerging mobility and high-capacity transit corridors in places with moderate to high trip demand. These could be on town or regional main streets or in more urban areas.
Level 3: Regional Connector – The regional connector mobility hub should be located along high-capacity transit corridors where there is high density and moderate to high demand for trips.
Mobility Hub Amenities
Each level offers a collection of elements to allow mobility hubs to function as seamless mobility connectors in different community contexts. The table below gives an overview of recommended mobility hub features for each level of mobility hub: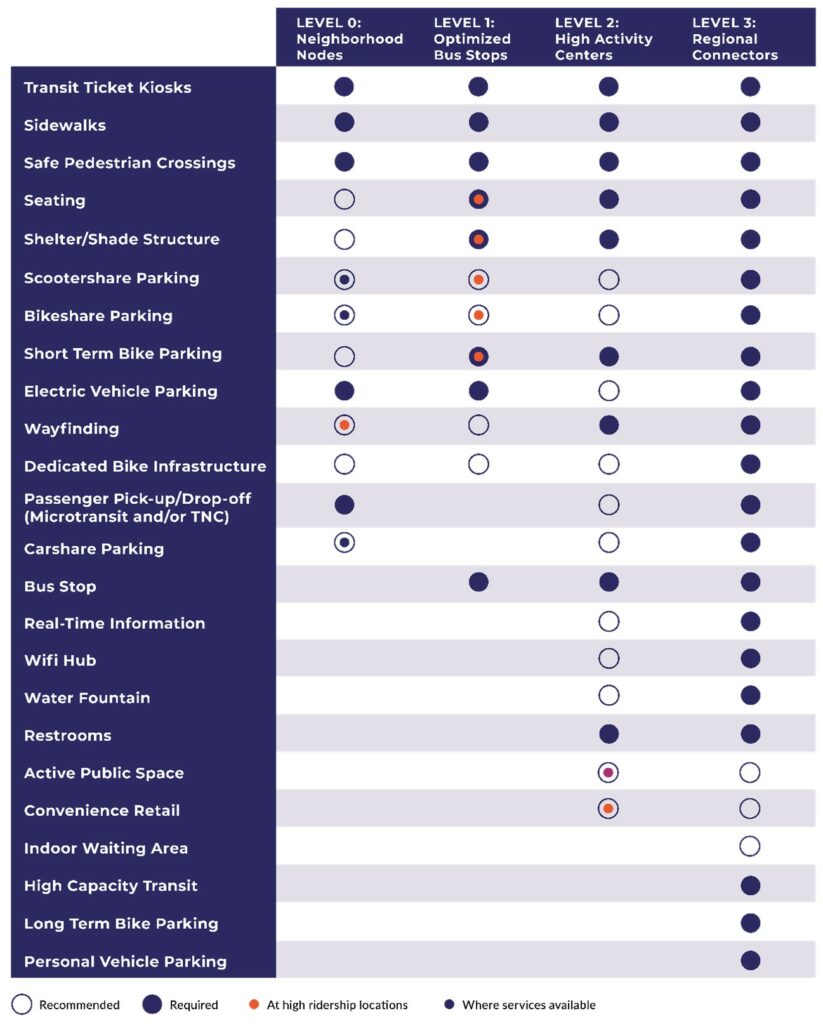 Some other considerations in planning and designing for mobility hubs, include:
Access to two or more transportation services
Biking and walking access to the site
A sense of place and human-centered design
Locally relevant and context sensitive programming and amenities
Fair and equitable access, including universal design
Cohesive, intentional design
Flexibility to adapt to evolving needs
Recommended Mobility Hub Locations
CONNECT Beyond recommends a total of 73 mobility hubs throughout the region, as seen in the map below. These mobility hubs present the opportunity to provide greater connectivity across the region, giving more people access to resources and supporting economic growth, in balance with meeting the needs of each local community.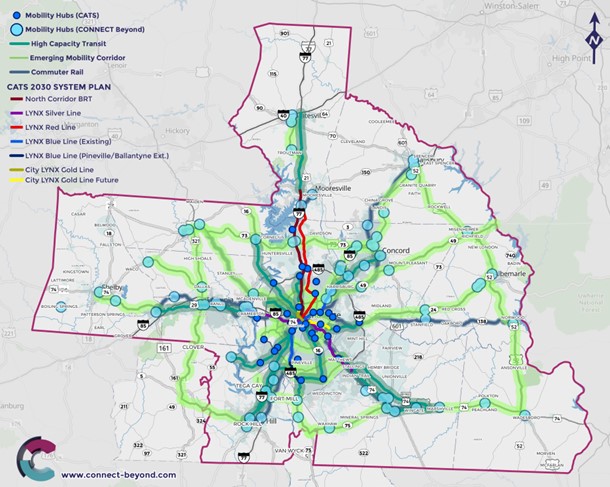 The following CONNECT Beyond recommendations seeks to advance the region's mobility hub framework in the near- to mid-term:
Integrate mobility hub locations with transit service connections
Identify and address land use regulations/development codes to better support mobility hub development
Develop small area or station area plans that coincide with mobility hub candidate areas
Develop a Mobility Hub Pilot Program that implements a limited number of demonstration sites with low-cost temporary installations and evaluate outcomes
Fund and initiate a Regional Mobility Hub Implementation Strategy
Learn More About Mobility Hubs: