In 2019, the North Carolina General Assembly completed a comprehensive update and modernization of the state's planning regulations for the first time since 1905. As part of this update, any community wishing to enforce local zoning was required to adopt a current land use plan by July 1, 2022. A land use plan captures a community's vision, values and goals for the future by translating community feedback into actionable policy recommendations and includes a future land use map to guide development. Land use planning provides an opportunity to integrate land use practices with other local priorities, such as transportation connectivity, healthy living, infrastructure investment and economic development. However, developing a land use plan is a significant undertaking that requires extensive research, data analysis, community engagement and plan design to provide the community with an effective tool to guide future decisions. Many communities throughout North Carolina had to rapidly identify a path toward developing a plan or risk challenges to their zoning ordinances if they did not have plans in place before the deadline.
THE PROBLEM
Three communities sought assistance from Centralina Regional Council to meet this deadline while ensuring a thorough, effective planning process. Beginning in summer 2021, Centralina Regional Planning staff led plan development processes for the Towns of Dallas and Stanley in Gaston County and the Town of Wingate in Union County. Like many jurisdictions across the state, all three communities faced staff capacity challenges that would have compromised their abilities to meet the state deadline. Each community was (and is) also facing unique development pressures, making the land use planning process crucial and timely to each jurisdiction's ability to grow strategically while preserving community character. In addition, Dallas had not updated their land use plan since 2003 and Stanley had never adopted a land use plan before, meaning these jurisdictions could be especially vulnerable to zoning challenges without a land use plan in place.
THE SOLUTION
Faced with the challenging task of developing three successful, enforceable plans for three very distinct communities in a single year, Centralina Regional Planning staff leveraged a unique combination of local knowledge, subject area expertise, innovative best practices and timely resources to deliver impactful plans and benefit our member governments.
STRATEGY 1: INTEGRATE LOCAL KNOWLEDGE
Regional Planning staff had provided various types of technical assistance to all three of these communities prior to summer 2021: in Dallas, Centralina conducted two prior surveying efforts to determine community priorities; in Stanley, Centralina guided updates to Town ordinances to ensure compliance with state regulations; and in Wingate, Centralina staff actively supports zoning, development and mapping efforts. Prior and ongoing efforts in all three communities enabled Centralina to develop customized planning processes to meet the unique needs of each jurisdiction. Centralina's previous regional planning efforts, such as CONNECT Our Future, CONNECT Beyond and scenario planning for local transportation plans, also contributed to an enhanced understanding of on-the-ground land use patterns and development trends.
STRATEGY 2: LEVERAGE EXPERTISE
Centralina staff have ample knowledge and skill in data analysis and community engagement. This expertise was crucial to developing relevant plans reflective of each jurisdiction's characteristics and priorities. Using federal, state and local data sources, Regional Planning staff developed descriptive profiles for each community and supporting maps that the three jurisdictions can use to enhance future planning efforts. To engage the community, Centralina implemented an array of engagement methods – from community surveys to public meetings to canvassing of local businesses – to amplify local perspectives and ensure community buy-in for each plan. Centralina also worked with Steering Committees comprised of local leaders from each community to ground each plan in lived experience and local expertise.
STRATEGY 3: INNOVATE BEST PRACTICES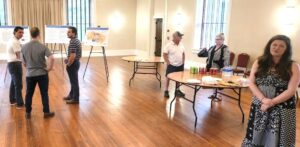 Centralina Regional Planning staff integrated best practices for plan development throughout each planning process, often in innovative ways. In Dallas, Centralina utilized previous engagement work with the Town to supplement and enrich the engagement gathered in the land use plan process. In Stanley, Centralina facilitated both in-person and virtual public meetings and delivered plan updates to residents through communications in their water bills to ensure equitable access to plan-related information. And in Wingate, staff leveraged the land use plan process to also gather input on concurrent and related planning processes, such as the development of a downtown plan.
STRATEGY 4: CAPITALIZE ON RESOURCES
Throughout the plan development process, Centralina staff actively participated in PlanNC programming hosted by the UNC School of Government. The Centralina team engaged in roundtable discussions with planners across the state to uncover strategies for plan development and leveraged the PlanNC Guidebook to adapt universal best practices for use by the three Centralina communities. In addition, since the three plans were developed in a similar timeframe, our staff were able to share best practices and resources with each other. Given the barriers introduced by COVID-19 and the shortened adoption window, these internal synergies were crucial to developing well-crafted plans.
THE RESULTS
By the end of June 2022, all three communities had unanimously adopted new land use plans, protecting each jurisdiction's ability to enforce zoning for the safety and welfare of residents. Centralina staff exceeded expectations by not only providing three effective and relevant land use plans, but also delivering additional resources and support to each community in the form of current data, community input and achievable strategies to link land use practices to other jurisdictional priorities such as connectivity, health, sustainability and economic vitality. These efforts will long outlast the state deadline for plan adoption, informing development, land use and planning decisions for years to come.
CONCLUSION
For communities throughout the Centralina region and beyond, the updated state regulations have sparked a new emphasis on and appreciation for the benefits of comprehensive land use planning. Centralina Regional Planning continues to assist other communities throughout the region with land use plan updates and other plan development services. The final land use plans for Dallas and Stanley can be viewed at their respective links. For communities interested in learning more about comprehensive land use planning and other technical assistance offered by Centralina Regional Planning, visit our department webpage.