The 12-county greater Charlotte community is nearing three million residents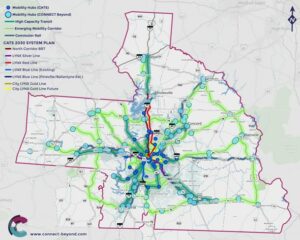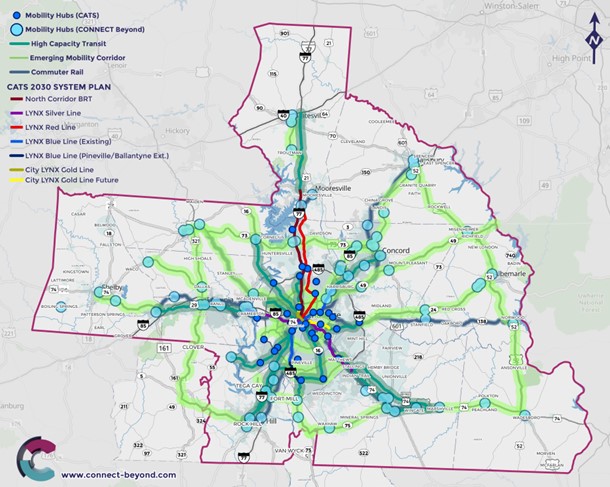 and is expected to add over one million more by 2045. As our region continues to grow, mobility will be critical to ensuring everyone has access to reliable, efficient and well-connected transportation. While our rapid growth will bring new opportunities to the region, it will also put additional strain and usage on our existing transportation network. To meet these challenges, Centralina Regional Council and the Metropolitan Transit Commission (the policy board of the Charlotte Area Transit System) adopted CONNECT Beyond's regional mobility plan in October 2021. The plan is the result of an 18-month process that included extensive community and stakeholder input and involvement. The plan includes over 150 recommendations, organized into five Mobility Move categories, that provide real mobility solutions that will serve as the foundation for our region's expanded transit connectivity, continued economic competitiveness and improved quality of life.
We want to acknowledge the one-year milestone, but more importantly, we want to recognize all the work being done in the region to implement and move forward the plan's recommendations. 
CONNECT Beyond Implementation
In the past year, all North Carolina transportation planning organizations in our region have endorsed or recognized CONNECT Beyond's plan, underscoring the continued commitment of our regional partners to improving mobility. Additionally, we are making progress in securing resources to move CONNECT Beyond implementation forward. In September 2022, the Charlotte City Council approved significant funding for implementation of CONNECT Beyond recommendations – that would match funding from federal, state and other local agencies to support regional projects. For each CONNECT Beyond Mobility Move we are making progress on immediate-term recommendations, including:
MOBILITY MOVE

IMPLEMENTATION ACTIVITIES

Create Mobility Friendly Places
Held two Centralina Learns training sessions – one on Mobility Hubs and another on Creating Mobility Friendly Places (watch via our member portal).

Actively planning two additional Centralina Learns events in addition to land use/transit connection education and training opportunities.

Shared CONNECT Beyond framework and lessons learned at state and national conferences, including Rail~volution and Association of Metropolitan Planning Organizations' Annual Conference.
Expand Mobility Choices
Received a grant from North Carolina Department of Transportation to develop a regional Transportation Demand Management (TDM) plan, a key CONNECT Beyond plan recommendation.

Updated the Connected and Autonomous Vehicle (CAV) Road Map for the region to incorporate emerging technologies that will impact transit.
Strengthen Rural to Urban Connections
Conducted quarterly Mobility Managers meetings to facilitate information sharing and coordination of region's demand response transit agencies.

Seeking funds to support mobility connections in rural and small communities, which could include a pilot program to develop a rural mobility hub – a place where different travel options come together – to be a demonstration for future projects.
Build a Better Bus Network
Developed a Transportation Guide for Older Adults and People with Disabilities.

Planning to kick off the Regional Scheduling and Operations Coordination Study in spring of 2023.
Invest in Strategic Mobility Corridors
Developed data portals including the CONNECT Beyond Transit Equity Mapping Tool and Electric Vehicle Supply Equipment Funding Dashboard to support mobility investment decisions
Additionally, Centralina Regional Council's Executive Board recently established a CONNECT Beyond Advancing the Plan subcommittee. This Committee is focused on regional collaboration around federal funding opportunities and state legislative strategies and will provide guidance on key plan implementation activities. This Committee will be critical to supporting a regionally coordinated approach to increasing mobility in our region and will help CONNECT Beyond maintain its momentum for years to come. The Advancing the Plan Committee to expected to kick-off early next year.
Why CONNECT Beyond is Important for Region
We want to reiterate how CONNECT Beyond's plan is important for the region. This is even more true today than a year ago. In addition to meeting the challenges of our regional growth, CONNECT Beyond's plan is uniquely designed to fits our region's needs and capabilities, because:
Coordination is Critical – CONNECT Beyond builds on and coordinates with other regional plans, avoiding duplication and leveraging work already being done in the region. Examples of regional plans include CATS 2030 plan, Concord Kannapolis Rider's Strategic Plan and Beyond 77.
Meets Communities Where They Are – CONNECT Beyond's recommendations do not proscribe that one solution will work for everyone – the needs of riders in one community will be distinct from others. The breadth and flexibility of the plan's recommendations enable local choices and investments while still building towards a regional vision.
Phased Implementation – CONNECT Beyond's recommendations are phased, acknowledging that mobility investment does not happen overnight and that implementing more immediate and straightforward recommendations will help build momentum.
Flexible & Long-Term – The regional mobility vision is clear but strategies to get there may evolve over time and the plan lends itself to flexibility.
What's Next
The path ahead is clear but there are still challenges. The governance, planning and operational landscape is complex in our region. Our region is home to six fixed route transit providers, 11 community transportation providers and four transportation planning organizations – each with their own Boards, funding streams, plans and challenges. Coordination will be critical to success.  With support from our regional stakeholders, we will need to work together to advance the plan and incrementally move toward the vision of a seamless mobility system. 
Our region continues to grow and we rely on our roadways to meet the needs of industry and business as well as commuters. We need to balance our regional investments to promote the benefits of transportation equity, foster innovative solutions that leverage technology and ensure that all residents and visitors can move easily and efficiently around the region. Our vision will not become a reality by large, broad strokes, but rather by small local steps in the right direction. Working together, we will collectively change how our region moves. On the one-year anniversary of CONNECT Beyond, we are off to a great start. Let's get moving!