Plan4Health NC:
Creating healthy communities is an important goal for cities and towns across North Carolina and the United States. A key step in this process is creating a coalition of professionals to share resources and best practices to improve health outcomes. The Centralina Council of Governments, with support from the American Planning Association and the American Public Health Association, is engaging in this work by leveraging collaboration between planners and public health professionals through the Plan4Health NC initiative.
                            What is Plan4Health and Planners 4Health?
The American Planning Association's Plan4Health project is designed to leverage planners' roles as collaborators and conveners to improve health outcomes. From 2014-2017, two coalition cohorts (35 coalitions total) of Plan4Health launched in neighborhoods, cities, and counties across the United States, funding work at the intersection of planning and public health. Anchored by American Planning Association (APA) chapters and American Public Health Association (APHA) affiliate members, Plan4Health supports creative partnerships to build sustainable, cross-sector coalitions. Each coalition was committed to increased health equity through improved nutrition and/or physical activity opportunities and dedicated to meeting the needs of residents where they live, work, or play. Plan4Health is supported by the Centers for Disease Control and Prevention (CDC) through a National Implementation and Dissemination for Chronic Disease Prevention funding opportunity.
Plan4Health NC is part of the next wave of this initiative, Planners4Health. Planners4Health is a chance to think about health at the chapter level. It is designed to go beyond place-based projects – working in a specific neighborhood, city, or county – to bring a focus to health at APA. The initiative is a grant-making program that will give members and chapter time to think about their role when it comes to strengthening healthy communities and building our shared capacity to work across sectors.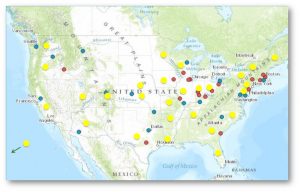 Plan4Health NC Taskforce & Staff:
The Plan4Health NC initiative is led by a taskforce of planning and public health professionals from across North Carolina.
Judy Francis – Recreation Resource Specialist, North Carolina State Parks
Mary Bea Kolbe – Healthy Eating and Active Living Coordinator, NC Division of Public Health
Leah Mayo – Active Routes to School Coordinator, Albermarle Regional Health Services
John Morck – Planning & Community Development Manager, City of Wilson
Michelle Nance – Planning Director, Centralina Council of Governments
Nathan Page – Planning Director, City of Graham
Abbey Piner – Community Food Strategies Project Coordinator, NC State Center for Environmental Farming Systems
Staff:
Katherine Hebert – Healthy Community Design Specialist, Centralina Council of Governments
Katey Mote – Planning and Public Health Graduate Student, UNC Chapel Hill
Planning and Health in NC Snapshot Survey
As part of the Plan 4Health NC initiative to create healthier communities, we are interested in capturing what is taking place throughout our great state to promote health through policy, systems, and environmental change. Your insight and experience is extremely valuable as part of this process and we would greatly appreciate if you would take the time to complete this survey. The information you provide will be used to capture our state's progress, technical assistance needs, and mutual interests.
Participants who complete the survey will be entered for a chance to win a FREE Fitbit Charge 2 Heart Rate and Fitness Wristband.
To complete the survey, please visit: http://tinyurl.com/ncplanners4health
Contact Information:
If you have any questions or would like more information about the Plan4Health NC initiative, please contact Katherine Hebert, the Healthy Community Design Specialist at the Centralina Council of Governments, at 704-348-2708 or khebert@centralina.org