Every ten years, the General Assembly requires local governments that elect governing board members on a ward basis to revise their voting ward boundaries to correct population imbalances. Often, communities gain or lose population, or the population shifts over the ten-year period. Known as "redistricting," revising imbalanced voting wards is necessary for local governments to remain compliant with the "one-person, one-vote" equal protection clause of the United States Constitution. The one-person, one-vote principle is meant to ensure that representation and voting power remain equally distributed among voting-age constituents.
Typically, ward boundaries are drafted to account for the existing and future population of an area, but it becomes increasingly difficult to forecast demographic patterns over an extended period. It is not uncommon for newly adopted ward maps to look drastically different from their predecessors. For this reason, redistricting plans consist of developing multiple ward scenarios that can be analyzed to determine the best option for the community based on their compliance with one-person, one-vote and criteria that is unique to each jurisdiction such as natural features, subdivisions and roads, to name a few. Recently, the City of Statesville needed assistance developing a redistricting plan for the 2022 election year and determined that a partnership with Centralina would be the best course of action.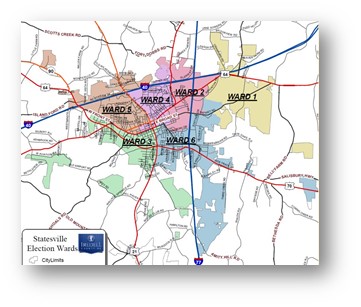 The City of Statesville entrusted Centralina to draft the best redistricting scenarios that would allow each district to remain balanced. Local governments achieve compliance with one-person, one-vote when ward populations fall within five percent of their ideal ward size; the total population of a jurisdiction divided by the total number of election wards within the jurisdiction. There are judicial orders for select jurisdictions which exist to serve as an added layer of protection for voting populations, exceeding the baseline requirement of one-person, one-vote. In the case of Statesville, its voting district map must also provide that two out of six election wards have a Black majority voting age population to ensure minority voter representation among its elected officials.
The City of Statesville's obligation to balance its ward population, coupled with the judicial order to maintain two majority-minority wards, added notable complexity to the redistricting process. Historically, the demographic data needed to begin redistricting would be released around February or March following earlier releases of full state population and other data. This year, COVID-19 delayed the 2020 Census release until August. The redistricting process could not begin until the Census Bureau released its block-by-block data for the 2020 census, resulting in a shorter than usual timeframe to develop redistricting plans.
The City of Statesville prepared in advance of the Census data release while Centralina provided technical assistance and guidance to staff on best practices to consider for redistricting such as the need to keep districts compact and contiguous, how to best determine optimal district boarder features and the placement of incumbents while developing scenarios. Within a matter of weeks, The City of Statesville was able to meet its legal obligation to redistrict, garner buy-in on the proposed new districts from elected officials, present the scenarios to the community and formally adopt a new redistricting plan. The efforts made by the City of Statesville led to a streamlined and methodical redistricting process and paved the way for the Statesville City Council to select a redistricting scenario that it considered was the "best option" for the community1. The City of Statesville is on its way to formally adopting its new voting district map, one that provides equitable representation and will remain in effect until a new redistricting process is required.
Source: Source: Statesville City Council Moves Forward with Redistricting Plan 
Photo: Existing Statesville Wards