For 57 years, Older Americans Month has been a special time to recognize the contributions these individuals made to our country. The Administration for Community Living, an organization that provides resources to help older Americans and people with disabilities stay healthy and independent, leads the observance each May and offers materials to help communities support and celebrate their older citizens.
Every day older adults make th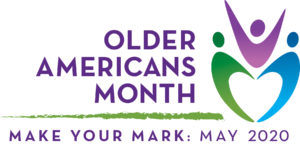 eir mark as volunteers, employees, employers, parents, grandparents, mentors and advocates. They offer their time, talents and experience to the benefit of our communities. That is why this year's theme is entitled "Make Your Mark." It highlights the difference everyone can make in the lives of older adults, in support of caregivers and in strengthening our communities.
While we cannot celebrate it as usual this year, we still encourage individuals and communities to reflect on the countless contributions that older adults make to our lives and nation. Below are some of the materials available to help you and your community observe Older Americans Month in our new "virtual" reality.
Social Media
Social media platforms like Twitter and Facebook are key to staying connected while we are socially distanced. Get social media graphics to help bring visibility to your Older Americans Month posts and tweets.
Share Stories
Stories build community and connect us, even when we can't be together. Visit the activity ideas page for ways to inspire your community members to share their stories.
Engage Virtually
The Administration for Community Living put together a short list of ideas on how to socialize, learn, explore, unwind and connect during this time of increased isolation. Share this resources sheet with your friends, family and community.
Would you like more Older Americans Month resources or additional information? Visit the Administration for Community Living (ACL) website at acl.gov/oam and follow them on Twitter and Facebook.