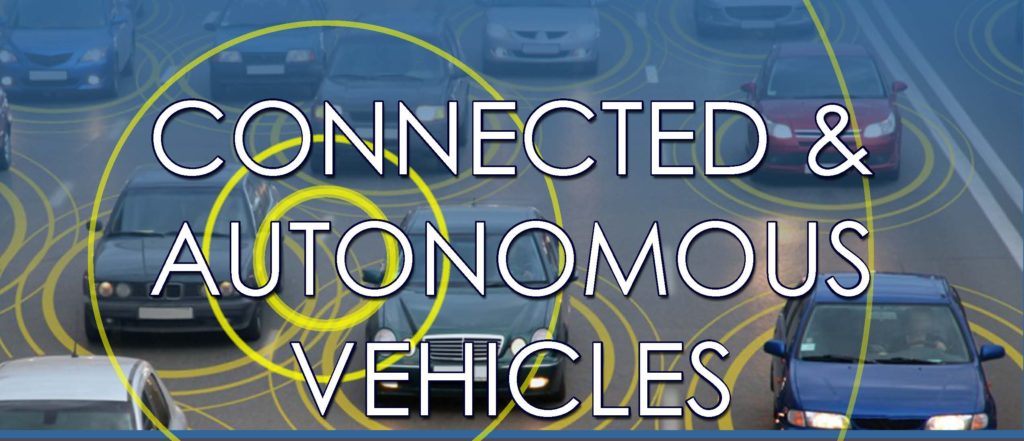 Connected & Autonomous Vehicles
Evolving vehicle technologies have the potential to alter all aspects of mobility and change how drivers and the transportation network interact.  Connected and autonomous vehicles will likely have a significant impact on the way we live and move around.  Government agencies can help guide the adoption and application of this vehicle technology.  Local governments and the region's transportation planning organizations will serve an important role in planning for how these vehicles impact our communities and transportation network.
Connected and Autonomous Vehicles have many potential benefits and challenges. Local governments will need to start planning now for the transition to driverless and connected vehicles.
CAV Regional Task Force
Resources
Preparing the Greater Charlotte Region for Connected and Autonomous Vehicles
---
2020 Meetings
February 7, 2020
June 26, 2020
*Please note, AICP credits (# 9202187) were available for this webinar.
---
2019 Meetings
       February 15, 2019
       May 10, 2019
       September 20, 2019
2019 Overview to Date Slides
---
2018 Meetings
Meeting 1 – March 2, 2018
Meeting 2 – April 20, 2018
Meeting 3 – May 23, 2018
Meeting 4 – June 22, 2018
Meeting 5 – August 24, 2018
Meeting 6 – September 21, 2018
Meeting 7 – November 2, 2018
---
Fall 2017 Workshop Series
The Centralina Council of Governments (CCOG) hosted a series of three workshops in the fall of 2017 to facilitate understanding of connected and autonomous vehicle (CAV) technology and how MPOs and local governments can prepare for these new technologies.  The workshops were a combination of learning and cross-sector discussion that culminated in next best steps for the region.
Workshop 1: Clearing the Hype
August 23rd
An educational session on what we know today and what is coming in the next 5-10 years. Participants left with raised awareness, education, and a clearer sense of the emerging and disruptive issue of CAVs and began to grasp its growing near-term impact within transportation.  Participants learned about NCDOT's early strategy and response to this impeding change and were exposed to both presentations and a panel discussion which summarized related research, legislation, and actions taken at the national and state levels, including other State DOTs and MPOs.
Workshop 1 Speakers included:
Brian Burkhard, Jacobs Engineering
Doug Gettman, Kimley Horn & Associates
Keith Hangland, HERE
Sam Van Hecke, Cambridge Systematics
Mark Jensen, Cambridge Systematics
Kevin Lacy, NCDOT
Workshop 2:  Discussing the Impacts
September 20th
How will CAVs impact our work and how we reach our long-range goals and objectives in the areas of public transportation, transportation planning, land use, modeling and forecasting, fleet services, etc.
Workshop 2 Speakers included:
Robert Cook, Charlotte Regional Transportation Planning Organization
Bjorn Hansen, Union County
Dennis Jernigan, NCDOT
Marty Milkovits, Cambridge Systematics
Paul Lewis, Eno Center for Transportation
Jitender Ramchandani, Virginia Department of Rail and Public Transportation
Alpesh Patel, Cambridge Systematics
Workshop 3: Developing an Action Plan
October 25th
Determined key steps our region can take to prepare for and make the most of this game-changing technology by incorporating input from government, business, economic development and academia interests.
Workshop 3 Speakers included:
Stacy Cook, Cambridge Systematics
Michelle Nance, Centralina COG
Alpesh Patel, Cambridge Systematics
Sam Van Hecke, Cambridge Systematics
Jason Wager, Centralina COG
Outcomes
As a result of these three workshops, Centralina COG, Centralina Clean Fuels Coalition and Cambridge Systematics released a roadmap at the end of January 2018 designed to prepare and navigate the future change CAVs will cause in the region. This roadmap and accompanying presentation can be found at the bottom of this section. The CAVs core group also determined that a CAV TaskForce should be developed to continue the conversation and sustain the progress that the Greater Charlotte region has made towards education of leaders and advancements in CAV policies.
In addition, Centralina COG is sponsoring several training sessions for regional planners throughout 2018 and the first session was on CAVs on 2/22/18. A session on CAVs was also held at the annual CCOG conference on 4/12/18.
This workshop series was designed to be replicable, so that other regions can benefit from the CCOG experience and begin their own preparations for CAVs.
---
Additional Information
Quick 101:
What is an Autonomous Vehicle?
Autonomous (also known as self-driving, driverless, or robotic) vehicles (AV) are vehicles in which some aspect of vehicle control is automated by the car.  These vehicles have the potential to increase safety, improve mobility, and reduce environmental impacts on a global scale. Many vehicles on the market today already include some level of automation, such as adaptive cruise control, lane-keeping assistance, and parking assist, with more features expected in the next year or two.
The National Highway Traffic Safety Administration (NHTSA) provides a formal classification system focused on the degree of human intervention needed.
Level 0: The human driver is in complete control of all functions of the car.
Level 1: A single vehicle function is automated.
Level 2: More than one function is automated at the same time (e.g., steering and acceleration), but the driver must remain constantly attentive.
Level 3: The driving functions are sufficiently automated that the driver can safely engage in other activities.
Level 4: The car can drive itself without a human driver.
What are Connected Vehicles?
A Connected Vehicle refers to the capability of the various elements of the modern surface transportation system (personal, transit, and freight vehicles, roadside infrastructure, transportation management centers, etc.) to electronically communicate with each other on a rapid and continuous basis.  Dedicated short-range communications (DSRC) allow rapid communications (up to 10 times per second) between elements of a connected vehicle network, particularly for safety critical applications. With safety as a primary goal, connected vehicle technology is anticipated to aid motorists in actively avoiding crashes and other incidents.  Connected vehicle technology is distinct from autonomous vehicles.
A widespread deployment of connected vehicle technology is anticipated to provide numerous additional benefits beyond safety. DSRC technology will enable innovative mobility deployments such as cooperative cruise control and vehicle platooning, increasing roadway throughput and reducing congestion. Coordination between vehicles and infrastructure will mitigate unnecessary breaking and stopping at intersections, resulting in reduced fuel consumption and lowered emissions.
Articles:
How the Bay Area took over the self-driving car business – San Francisco Chronicle 
Who's Calling the Shots On Autonomous Vehicles? – City Lab
9 radical changes that are coming to transportation – Vox
How free self-driving car rides could change everything
How Driverless Cars Could Be a Big Problem for Cities – Governing
NCHRP Report 845: Advancing Automated and Connected Vehicles: Policy and Planning Strategies for State and Local Transportation Agencies
NCDOT chief: Electric, driverless cars could dry up road funds
Malfunction Fears May Haunt Self-Driving Cars
Experts weigh in: Will autonomous vehicles mean more congestion — or less?
Would You Buy a Self-Driving Car from These Guys?
Workshop Series Supported by: