CCOG staff have sharpened energy related technical abilities and knowledge through staff training and engagement with local government leaders and experts.
Events and Projects
On July 30, 2014 over forty regional local government staff including planners, code officials, building inspectors; elected officials; and private solar developers attended two-half day workshops tailored to help local government staff address concerns related land use planning/zoning and building code permitting for solar energy developments ranging from large scale solar farms to small rooftop installations.
Centralina partnered with the SunShot Solar Outreach Partnership, funded through a U.S. Department of Energy grant, to put together these workshops to help local government staffs work in the interest of their residents. To view the presentations and other resources please click here.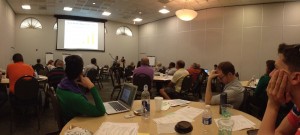 Energy Efficiency
As governments continue to grapple with growing populations, shrinking budgets, and rising operating costs, programs that are sometimes overlooked in money saving scenarios are energy conservation measures. A popular way to pay for equipment upgrades is via Energy Service Contracts which guarantee reductions in utility bills. Equipment upgrades can range from lighting to HVAC to building controls.
Utility Incentives
In North Carolina, utilities are required to produce 12.5% of their electricity by 2021 from renewable sources. Major utilities provide incentives to upgrade existing equipment and through a customized application, governments typically qualify to receive a large portion of the project cost based on the age and efficiency of the equipment in question.
Duke Energy offers cash back incentives for high-efficiency upgrades through their Smart $aver program.
Regional Success Story: Union County, North Carolina. As the recipient of $750,000 United States Department of Energy grant, Union County has been able to measure usage and implement energy conservation measures at multiple county owned buildings and facilities. These strategies have proved fiscally sound and will enable the county to establish a "Revolving Energy Fund" to pay for further energy efficiency development from the reductions in utility bill spending.
Renewable Energy
Solar
Thermal: Solar thermal hot water technology has the most optimal payback period of any renewable application. With major incentives and tax credits available to owners, as well as qualified 3rd party financing, local governments can provide for hot water needs at their facilities while not incurring significant upfront capital costs.
Photovoltaic: Solar PV systems can provide governments with decreased energy bills as well. Costs for solar continue to fall, and PV systems qualify for the same Federal and State incentives and tax credits that allow solar thermal to be very competitive. 3rd party financing is also available with solar PV.
Landfill Gas
Due to consistently rising transportation fuel costs and shrinking budgets, government fleets are feeling the strain to handle larger populations with fewer resources. A way to combat this is by switching government owned vehicles to compressed natural gas, which can be mined and harvested from local landfills. Such examples include Gaston County and the Catawba County Eco-Complex.
Waste to Energy
Taking advantage of a municipalities' solid waste, waste to energy is an incredible renewable technique that is best described as resource reuse. By choosing a waste-to-energy application, local governments can decrease their budgets for managing solid waste as well as rely on a safe technology to displace garbage dumped in landfills.
Links
NC Clean Energy Technology Center
NC Department of Environmental Quality