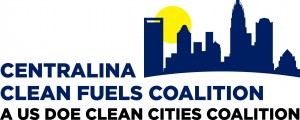 The Centralina Clean Fuels Coalition (CCFC), has been in existence in the Greater Charlotte Region for over 10 years and was designated in April of 2004 in the Department of Energy's Clean Cities program. The Coalition is a local effort of the Centralina Council of Governments, a state designated regional planning agency in North Carolina comprised of Anson, Cabarrus, Gaston, Iredell, Lincoln, Mecklenburg, Rowan, Stanly, and Union counties.The mission of the National Clean Cities Program (locally represented by the CCFC) is to reduce petroleum dependence, improve air quality, and expand alternative fuel use and technology. The program promotes, accelerates, and expands the use of alternative fuels in the transportation sector. The US Department of Energy (DOE) classifies the following fuels as "alternative fuels": biodiesel, electricity, ethanol, hydrogen, methanol, natural gas, propane, and solar energy. For more information please visit the Alternative Fuels and Advanced Vehicles Data Center (AFDC) website.Nationally, Clean Cities is a voluntary federal program designed to accelerate and expand the use of alternative fuel vehicles (AFV) in communities throughout the country and to provide refueling and maintenance facilities for their operation. Sponsored by the DOE, Clean Cities encourages local governments and organizations to form public/private partnerships in developing markets for AFVs. Clean Cities is founded on the principle that our nation's objectives are best accomplished by motivated individuals working together for a common goal. Nationally, there are nearly 100 local coalitions and more than 8,400 stakeholders.
For more information please visit the Centralina Clean Fuels Coalition web site.
Some example projects and grants received include:
Clean Fuel Advanced Technology (CFAT). In recent years, the NC Clean Energy Technology Center at NC State University has been awarded Congestion Mitigation Air Quality (CMAQ) funding from NCDOT to reduce transportation related emissions in counties that do not meet national air quality standards. The program covers three broad areas: education and outreach, recognition of exemplary activities, and project funding.  Centralina Clean Fuels Coalition provides education and outreach assistance in the Charlotte Region.  For more information please visit the NC Clean Energy Technology Center's CFAT program website.
Southeast Alternative Fuel Demonstration Initiative:  The SADI Demonstration grant is a US Department of Energy project focused on the increased adoption of Alternative Fuels in the Southeast region of the United States.  Centralina Clean Fuels Coalition, and others throughout South Carolina, North Carolina, and Tennessee, will work with technology partners to provide opportunities for fleets to demonstrate a wide range of alternative fuel vehicles. Fleets can demo a vehicle for free!  If you're interested in this project please visit the project webpage: www.SADIdemo.org and signup to demo a vehicle.
Plug-in Electric Vehicle (PEV) Planning and NC PEV Readiness Initiative: Plugging in from Mountains to Sea. Visit www.ncpevtaskforce.org for more information.
Carolina Blue Skies & Green Jobs Initiative. Clean Cities coalitions in North and South Carolina engaged over 40 partners to participate in this grant to increase the availability of alternative fuels and alternative fuel vehicles in the bi‐state project area. Centralina Clean Fuels Coalition worked with five partners in the Centralina region for a total of $6.7 million dollars in projects, including $2.1 million in grant requests.
Alternative Fuel Implementation Team (AFIT). Clean Cities coalitions in North Carolina engaged alternative fuel and vehicle professionals to identify barriers to implementation for all alternative fuels:  Ethanol, Biodiesel, Electricity, Propane, and Natural Gas.  Centralina focused efforts on identifying barriers to implementation for propane.  We assisted the NC Clean Energy Technology Center at NC State University in the development of an online toolkit for fleet managers to use when considering alternative fuels.  For more information please visit the NC Clean Energy Technology Center's AFIT website.
For more information, please contact Jason Wager, Sustainability Program Manager and CCFC Co-Coordinator (jwager@centralina.org)