Regional Resilience & Recovery
We know that natural and manmade disruptions will continue to emerge, threating the health, safety and economic vibrancy of our communities and impacting our residents in very personal ways. How can we recover from these disruptions in a way that moves our communities forward and leverages the strengths of government and non-government partners? A resilient recovery requires a whole of government approach, so the Centralina Economic Development District (EDD) applied for and was awarded a U.S. Economic Development Administration (EDA) Disaster Relief Coordinator Grant to assist jurisdictions and municipalities with building adequate capacity and enhancing resiliency.
Regional Resilience Collaborative
Centralina EDD partnered with Centralina Regional Council and our nine-county emergency management directors to launch the Regional Resilience Collaborative, a project that will assess the viability and resiliency of emergency management plans and coordinate resources so the region can pursue greater efficiency in responding to current and future natural and man-made disasters. The Centralina team will work directly with county emergency management managers across our nine-county region to build upon existing county and city-level emergency plans through a series of plan evaluations, assessments, focus groups and workshops.
Investigate the landscape of local resources and capabilities
Document local strengths and opportunities
Support coordination for regional recovery strategies
Bolster the capacity of community economic resilience
Create a tangible and relevant recovery
April – August 2021
Understand Local Recovery Needs and Resources
September 2021
Regional Recovery Summit Workshop
October – November 2021
Regional Resilience Collaborative Workshops II and III
October 2021 – January 2022
Regional Recovery Framework
Pre-Disaster Recovery Plan Template
Pre-Disaster Recovery Plan Development Guide
Local Leader Disaster Recovery Coordination Guide
GIS Equity and Resilience Mapping Tool
The Regional Recovery Summit was the first of three fall 2021 virtual workshops held by the Regional Resilience Collaborative. The Summit featured discussions with representatives from state and local government and nonprofit organizations. Disaster recovery experts shared their experiences, addressing the many challenges of rebuilding sustainable and equitable communities following large-scale disasters. 
The workshop was centered around four recovery themes:
Whole Community Collaboration

– using trusted resources, knowing who to contact and working with community organizations. 

Infrastructure Recovery

– mapping out recovery and who to engage. 

Disaster Housing and Land Use/ Development

– best practices and experiences from other areas of North Carolina that have experienced recent catastrophic disasters.  

Economic and Small Business Recovery

– how local government can support resilient economies and bounce forward. 
Some of the themes that emerged from the Summit included: The importance of planning and building relationships in advance; equity is directly linked to recovery; to succeed, recovery must include community partners, the public and businesses in addition to local government and federal partners; communication is key; and look to other communities for examples of success stories.
Workshop II: Recovery Planning
This event focused on work with the nine-county emergency management leads and planning teams to develop an up-to-date operational and all-hazards recovery plan for the Centralina region. The materials included key recovery concepts, planning tools and recommended next steps for plan implementation. The workshop also unveiled a plan development template and coordinating guide that will provide our region a strategic advantage and opportunity to bolster a regionally coordinated approach to recovery planning. It is important to note that emergency management owns the recovery plan and county/city management own the recovery process. 
Pre-Disaster Recovery Plan Template
The template serves as a customizable document that assists Centralina jurisdictions in developing a pre-disaster recovery plan to address regional resilience and support community and business economic recovery from future disaster events and economic shocks. 
Pre-Disaster Recovery Plan Development Guide
This document helps jurisdictions customize the Pre-Disaster Recovery Plan Template and serves as a "how-to" manual that accompanies the plan template.
Workshop III: Recovery As An Opportunity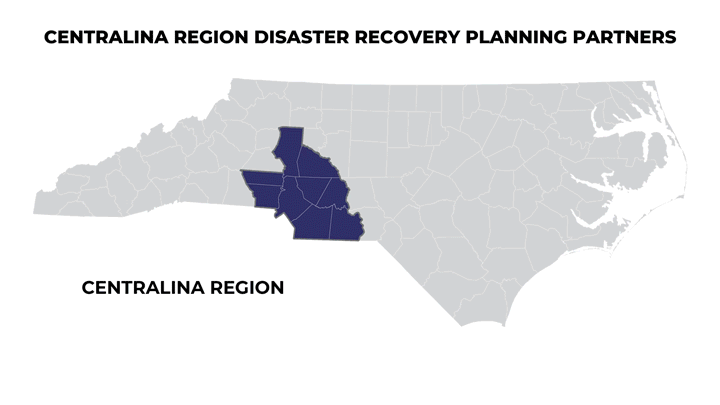 This workshop centered around how local leaders can ensure that disaster recovery is used as an opportunity to advance equity and build economic resilience. During the event, Centralina introduced a Geographic Information Systems (GIS) interface that can assist local governments in pre-disaster planning and post-disaster decision making that supports equity and resilience. The workshop included perspectives from local government leaders and elected officials, emergency managers, social service providers, urban planners, economic development entities and nonprofit and community-based organizations in the central North Carolina region. Next steps and funding opportunities for the Regional Resilience Collaborative were also discussed.
Local Leader Disaster Recovery Coordination Guide
Recovery begins in the first days of a disaster and emergency managers oversee critical life-safety concerns during the response. County and city managers or designated staff should lead the planning process and map out needed elements for a successful recovery. Read our Local Leader Disaster Recovery Coordination Guide to see key planning considerations for county managers and elected officials. The guide supports the work of the recovery planning team in developing a local recovery plan, serving as a touchstone to engage local government and elected officials, recovery support committees and community stakeholders.