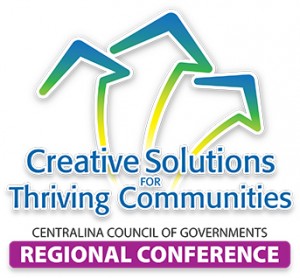 For Immediate Release
Contact: Jim Prosser, Centralina Council of Governments, 704-348-2703
CentralinaThrivingCommunities.com
"Creative Solutions for Thriving Communities" Conference
Focuses on Economic and Social Resilience for Local Communities
The Greater Charlotte Region is one of the fastest growing in the nation and is rapidly diversifying in its population.  The national speakers at Centralina Council of Government's Second Annual "Creative Solutions for Thriving Communities" Regional Conference Thursday encouraged attendees to take action, building their communities' economic and social resilience in the face of unprecedented change.
More than 160 local government elected officials and top decision-makers from the Greater Charlotte Region and beyond gathered Thursday in Gastonia, N.C., for a day-long conference focused on practical tools, best practices and resources for implementing the framework for growth set out through the three-year CONNECT Our Future planning process completed earlier this year.
Morning keynote speaker James H. Johnson, Jr., Ph.D., of UNC Chapel Hill's Urban Investment Strategies Center, used humor to enliven what some might view as a dry topic, Disruptive Demographics:  Implications for the Health and Economic Viability of the Centralina Region.  "North Carolina used to be a state where two languages were spoken – English, and bad English," he quipped as he touched on immigration. "Now over 250 languages are spoken here."
"Dr. Johnson presented eye-opening facts about the growth of the South and our region's aging and diversifying population that every elected official needs to know," remarked Mooresville Commissioner Bobby Compton.  "I'm thinking differently now about how my town will respond to the trends Dr. Johnson showed us,"
Dr. Johnson also facilitated three "Innovation Cafes," part of the conference's nine breakout sessions.  A new conference feature, the interactive Innovation Cafes allowed participants to take a deeper dive into topics, identifying opportunities and strategies to address key challenges. The three Innovation Cafes focused on the impacts of demographic shifts on economic growth at the community level, workforce and customer service, and regional transit planning integrated with place-making and innovation hubs.
Luncheon keynote speaker Chris Zimmerman, spoke on "What's Driving Change in the 21st Century?"  His address demonstrated the economic return that communities are experiencing from more compact, well-designed development.  Zimmerman is Smart Growth America's Vice President for Economic Development and Director of the Governors' Institute on Community Design.  (Zimmerman spoke in place of invited speaker John Robert Smith, also of Smart Growth America, who was recovering from a skiing accident and unable to attend.)
Zimmerman said walkable, compact development is not only what the market is demanding, but it is less costly for local government to serve and provides a stronger revenue base.
"Even retail chains like Walmart, and office tenants, are now selecting downtown locations over automobile-dependent suburban ones," Zimmerman commented.
Attendee Aron Whitehead, Vice President of Avision Young, a commercial real estate firm, said he really enjoyed Zimmerman's talk. "We are very much seeing the trends he spoke about in the office sector throughout the Charlotte market," remarked Whitehead.
Breakout session topics included:
Aging in the Suburbs: Changes in the Built Environment that Support Well-being and Mobility as We Age
People, Places and Spaces: Transforming Public Engagement with Civic Innovation
Improving Community Food Systems: Food Councils in the Charlotte Region
CONNECT Tools in Action: Aligning Long-Range Transportation Planning with CONNECT Outcomes
Embracing Entrepreneurship and Small Business
Creating Innovative Places for the Next American Economy
"We designed this conference to provide the tools and resources to strengthen each and every community within our region," said Jim Prosser, CCOG Executive Director.  "More economically and socially resilient communities will build a stronger, more resilient region.  This will accelerate our efforts to compete in a rapidly changing globally competitive region."
Local government officials who attended the conference said that it helped equip them to deal with issues in their jurisdictions.
"The key to our region's continued success will be local governments continuing to work collaboratively with each other and with private-sector partners on issues that will help us grow jobs and the economy, control cost of government and improve quality of life," said Will Cauthen, Mayor Pro Tem of the Town of Cramerton and CCOG Executive Board member.  "I found the opportunity to network and exchange ideas with my peers very helpful."
If you could not attend the conference but would like to access presentations from it, go to www.CentralinaThrivingCommunities.com.
Next year's conference is scheduled for December 8, 2016, location to be determined.