Shirley Wiggins serves as a volunteer with Centralina Area Agency on Aging with the Senior Tar Heel Legislators (STHL) and the Region F Aging Advisory Committee. Not only does she volunteer in multiple capacities for C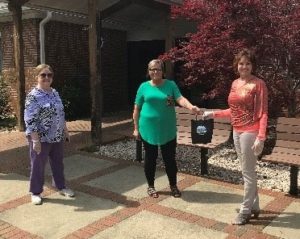 entralina, Shirley also serves as Chair for the National Silver Haired Congress (NSHC).
Recently, Shirley worked with fellow volunteers to address unmet needs in local long-term care facilities during the COVID-19 crisis. Together with her Gaston County STHL Alternate, Pat Rivers, and a STHL and Silver Haired Congress member from Southern Pines, Gladys Britt, these volunteers donated money for the purchase of masks for our staff working in adult care homes in Gaston County. Shirley is hopeful this idea will take off across the country and has reached out to all the members of the NC STHL and NSHC to encourage them to do the same in their areas.
Each of these dedicated volunteers – Shirley Wiggins, Pat Rivers and Gladys Britt – donated $100 dollars and with some ingenuity, were able to purchase 500 masks. Shirley reached out to Cindy Englert, Centralina's Long-term Care Ombudsman for Gaston County, to determine which adult care homes were in greatest need. Four facilities were identified for this fi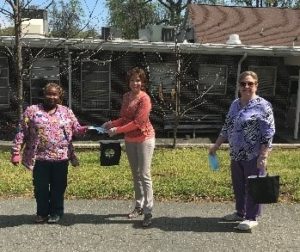 rst round, with the hope that Shirley and Pat will be able to raise more money to purchase enough masks to share with all the facilities.
The facilities that were contacted were extremely grateful and appreciative to receive the masks. One facility staff told Englert, "We have been hunting masks all over the state and have been unable to get any." A second facility shared that they were almost out and had only a few remaining from a box the administrator was rationing to try and make the supply last as long as possible.
Shirley and Pat worked with the facilities to get them delivered as quickly as possible. Centralina wishes to thank Shirley, Pat and Gladys for their willingness to help others when they were under "stay at home" orders and confined to their homes amid this health crisis. Shirley said, " I couldn't just sit around and do nothing, so I decided I needed to help in a way I knew would make a difference, and am so glad I have good friends and advocates who were willing to help me."
April is National Volunteer Appreciation Month, and the Centralina Area Agency on Aging staff wish to thank all our Community Advisory Committee members, STHL and Region F Aging Advisory Committee representatives, and all others who dedicate their time and talents to help Centralina enhance the quality of life senior adults in our region.
Shirley Wiggins posthumously won the 2020 Centralina Region of Excellence Aging in Action Award. Read more HERE.