Winner of the 2019 Improving Quality of Life Region of Excellence Award.
What is the Highland Neighborhood Association Initiative?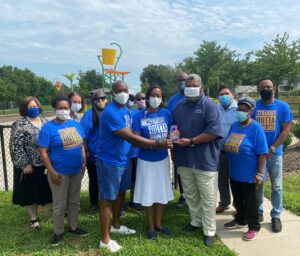 The City of Gastonia, Kintegra Health and Gaston County Department of Health and Human Services formed the Highland Neighborhood Association to address disparities, including obesity, access to healthy foods and housing affordability, in this low-income, historically African American community. They worked to improve quality of life through a range of activities and investments in fresh food access, parks and recreation, healthcare and community engagement. It started with a Blue Cross Blue Shield (BCBS) Foundation Grant and further developed with the help of Vincent Wong, the City's Housing and Neighborhoods Administrator.
How was their approach different?
In addition to addressing known community issues, the initiative took a holistic approach to educate and empower the community to become advocates for themselves. These are a few steps Vincent Wong and the association took to foster a model of shared governance:
Building trust
Due to past incidents of broken trust with local government, Wong had to prove himself and his motives. He started attending association meetings and ended up participation in all their community events. He built relationships with members to the point where he got emails from them when he did not attend events. Wong showed up for the community, listened to its needs, learned its history and built relationships with residents.
He worked with the community to help them understand local government processes and responsibilities. Wong also worked behind the scenes in his role as a government employee to find money and resources to move projects forward, saying "I continued to show up, didn't make excuses for the past and focused on how they can move forward."
Community Education
As community members learned more about local government, they became more involved by taking equity, diversity, leadership and organizational trainings funded by scholarships, conventions and the BCBS Foundation. They also made sure to have representatives on local government committees and attended council meetings. "Members realized that if they wanted their voices to be heard, then they had to roll up their sleeves to get involved," said Wong. Today, two of these highly involved members, Donyel Barber and Charles Odom, serve on the Gastonia City Council.
A Few Tips from Vincent Wong to Get Started:
Identify community leaders: Seek out the unspoken leaders of the community such as respected elders, religious officials or business owners. These people may not have an official title, but they have influence as the community looks up to them to help make decisions.
Have uncomfortable conversations: People do not want to have conversations about race or inequity, but they are necessary to move forward. You must be completely open and honest.
Put your ego aside: The residents that live in that neighborhood everyday know it best so put your ego aside and say, "How can I help?"
Concentrate on small wins: Be very intentional about what the group is going to do to create small victories to show that there is some momentum and to prevent residents from getting discouraged.
Collaborate with others: You must be inviting and willing to accept other organizations or support. Even though they were not there on day one, bring them in and let them be a part of it. You need them if you want to continue to grow.
Be open to change: Meetings do not always go as planned and it is ok if they veer from the agenda. It is also important to allow time for team building, ice breakers or just having a snack.
Final Points for Local Government Leaders:
You do not need a large budget, fancy technology or a lot of resources. You just need an open and dedicated employee to see the potential and take the lead.
Meet them in their community – use churches, community centers, etc.
Consider your audience's needs and make accommodations. For example, you may need to re-evaluate meeting times or provide childcare.
Be honest and transparent with the community on what is actually possible.
Make adjustments to accommodate differences in each community. It is not going to be exactly the same every time.
Written by Lauren Tayara